Movies This Week: July 13 - 19, 2012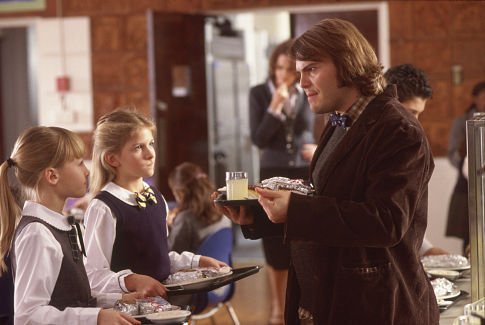 The crowds have amassed in San Diego for the largest annual gathering of comic and film fans known as Comic-Con. I envy our pals who make the trek where once-in-a-lifetime magic happens, including musical performances from The Guild cast members or the appearance of the filmmakers and the entire cast of Firefly and Serenity -- more precisely, UT graduate Felicia Day (The Guild, Dr. Horrible's Sing-along Blog), Joss Whedon, and Nathan Fillion. Reports have already come out of San Diego of Whedon and Day dancing with fans.
Fellow fans can experience Comic-Con 2012 through the coverage from Spill.com and Film School Rejects. I'm loving the weekly videos from Ain't It Cool News Harry Knowles's basement, and this week Harry shares his Comic-Com film panel preview.
Meanwhile in Austin, I'm really looking forward to a guilty pleasure of Blue Starlite's double feature on Saturday at 9 pm, of my all-time favorite Richard Linklater movie, The School of Rock, followed by animated film Waking Life. Tickets are available here.
Cinephile and former film studies professor Sam Beam -- now leader of the band Iron and Wine -- hosts a special screening of The Third Man at the Paramount on Thursday at 7:30 pm. Starrring Orson Welles, Joseph Cotten and Alida Valli, this film follows pulp novelist Holly Martins as he travels to post-war Vienna, where he investigates the untimely and mysterious death of his friend Harry Lime who had made quite a profit off the black market.
Movies We've Seen
Extraterrestrial (Extraterrestre) -- I thoroughly enjoyed Nacho Vigalondo's latest feature at Fantastic Fest last year, although it doesn't meet the bar set by the Spanish filmmaker's Timecrimes (Los Cronocrimenes). In his review, Don states, "Despite the movie's ittle and summer release, the extraterrestrial elements ... serve only as a backdrop for an intriguing, witty and rather minimalist comedy about the relationships between four characters." (Alamo Drafthouse South Lamar)
Ice Age: Continental Drift -- The latest animated film in the Ice Age franchise will entertain the kids, but most adults will most likely be relieved for the extinction of these mammoths. Read more in my review. [wide]
Beasts of the Southern Wild -- Six-year-old Hushpuppy journeys to find her mother as her father is slowly dying -- along the way she encounters mysterious creatures and also discovers that the universe is unravelling, with cataclysmic results. Jette says, "It's so refreshing to see a film where South Louisianians aren't depicted as beignet-gobbling Cajuns with Adam Sandler-esque accents." Look for her review on Saturday. (Violet Crown Cinema, Regal Arbor at Great Hills, Alamo Drafthouse South Lamar)