Lone Star Cinema: Where the Heart Is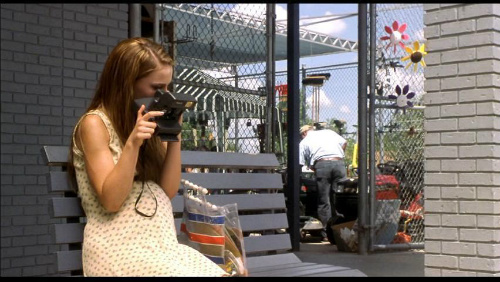 I both read the original Billie Letts book and watched the film version of Where The Heart Is very closely together in 2001 -- so closely together I can't recall whether I saw the movie or read the book first. Either way, I remember that I didn't care too much for the movie but I really liked the book. If only I had realized, during this truly homesick year of my life spent in Minnesota, that the 2000 film was shot in Central Texas, I'm certain it would have made more of a sentimental impact on me.
There really are not many locational hints in Where the Heart Is to tell you that the movie was filmed in Texas, unless you recognized the Baylor campus at the end. When I watched it more recently, I spied Sixth Street standing in for Nashville and I spotted a building in Lockhart's town square appearing quickly as a hotel (I only recognized the building because I had been in Lockhart the previous weekend on a Waiting for Guffman quest, but that's another post!). Mainly the Central Texas locations stand in for the fictional town of Sequoia, Oklahoma, as plucky pregnant teen Novalee Nation (Natalie Portman) is stranded at the Wal-Mart there by her mulleted douchebag boyfriend (Dylan Bruno).
As in the book, the screenplay presents us with the concurrent storylines of these two characters. While Willy Jack (the aforementioned mulleted young man) continuously blunders his way through life, Novalee builds her own little family of characters in small-town Oklahoma ... after living for some time in the Wal-Mart and having her baby there. I am not certain that the movie is as convincing as the book in portraying the two divergent paths of these characters.
However, I found Where the Heart Is to be charming the second time around, despite the fact that Portman's portrayal of Novalee lacks a certain depth -- the actress was only about 18 or 19 when the movie was filmed, and she depicts Novalee from about 17 to 22. Novalee has been orphaned, unlucky in her early life (especially in her choice of a boyfriend, AHEM), and is deeply superstitious about the number 5. During her time in Sequoia, she gets to know locals Sister Husband (a winning Stockard Channing), nurse Lexie Coop (a blonde Ashley Judd) and her candy-named brood, and the interesting young man who lives above the library, Forney (James Frain). I've seen Frain in multiple roles since, yet I always think of him first as Forney. Joan Cusack plays a bitter agent to wanna-be country singer Willy Jack.
One of the weaknesses of the film is the casting of Willy Jack. Certainly the character is supposed to be foolish, and almost despicable in comparison to the more loving and lovable Novalee, but Bruno's Willy Jack just comes off as a doofus. The characters in Novalee's storyline are so much more interesting and quirky that I found myself wanting to fast forward through the Willy Jack scenes. Would the movie be as powerful without his plotline to compare to hers? I can't say.
In spite of its flaws, Where the Heart Is is a sweet little film, and I must admit that I love that four women get top billing.
Austin/Texas connections: Where the Heart Is was shot in Austin, Lockhart, Taylor and Waco. In addition to the locations mentioned above, the supporting cast includes a number of locals and Lone Star actors including Todd Lowe (True Blood), Kinna McInroe (Office Space), Margaret Hoard (Bernie), Heather Kafka (Lovers of Hate), Ray Prewitt, Richard Nance, Richard Jones and Dan Eggleston.
[Still via Nearly Vintage]