Cinema East Kicks Off Summer Screenings with Help from Nick Offerman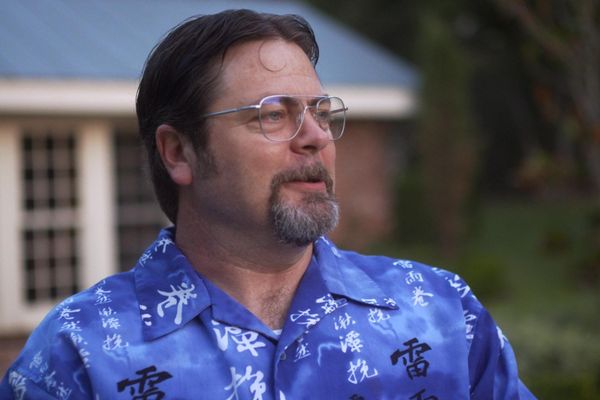 By Whitney Pyterek
Cinema East kicked off its third season of outdoor summer screenings last Sunday with a screening of Austin filmmaker Bob Byington's feature Somebody Up There Likes Me, which had premiered earlier this year at SXSW (Don's review, Jette's interview). Byington and lead actor Nick Offerman (Parks and Recreation) were there with the film.
Just as the sun began to set, Yellow Jacket Stadium filled up with lawn chairs and picnic baskets. I fell in love with the atmosphere almost instantly. People were dancing to the live DJ, and the weather was absolutely perfect. Local vendors like Good Pops and Frank were selling hot dogs, beer and popsicles. It was a large audience for the series -- people seemed excited to kick summer off with an outdoor movie.
As it got dark, the screenings began. There was a surprise short called Mouthful, a crowd-pleasing film about manhood and all boys' insecurities. Mouthful was a good warm up for the feature. Somebody Up There Likes Me was a quirky comedy with just enough cute to go around. It was about beginning relationships, marriage, divorce, parenting, life and growing old ... or not growing old. The mystery of the blue suitcase is never really revealed.
Cinema East prides itself on providing viewers with the opportunity to interact with the films' creators after the screenings. I was looking forward to the post-movie Q&A, which ended up being a pretty strange affair. Cinema East had started off the night with a preview that jokingly made fun of the questions you do not ask filmmakers. Maybe people drank too much beer, but the questions from the audience were shallow and painted a great picture of why filmmakers get so frustrated at Q&As.
Byington played into the ridiculousness by making weird noises into the microphone, passing questions to Offerman, and eventually walking offstage in the middle of the interview. The one good question that was asked got a round of applause:
"Why did you feel like you had to make this film?" someone from the crowd asked.
"Because it's the only thing I know how to do," Byington responded.
Summer calls for cold beer, sunsets, picnics and movies on a big screen in the middle of a football field, and Cinema East has all of these ingredients covered every other Sunday through the end of the summer. $3 will get you into Yellow Jacket Stadium to watch an independent movie you can't see anywhere else but a film festival. Screenings are BYOB, dog friendly, dance friendly, and some of the cheapest entertainment you will get in Austin ... I'm looking forward to seeing more of this series.
Catch Cinema East's next offering, Gayby (Elizabeth's SXSW review), on Sunday, June 24.
Whitney Pyterek is an intern at the Austin Film Society.