Review: First Position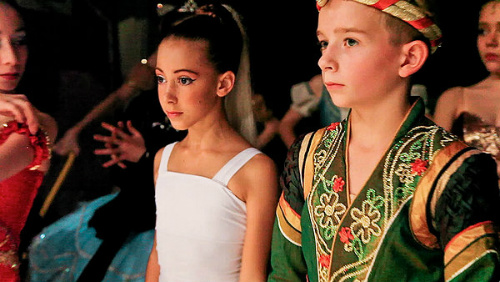 First position is one of the first things you learn in ballet class, placing your feet heel to heel in as straight a line as possible. In the case of the documentary First Position, the directorial debut by former dancer Bess Kargman, this position is not only in frequent use among the dancers involved, but also the goal they hope to attain in the Youth America Grand Prix.
Kargman's film follows six young ballet dancers in their many months of preparation for the Grand Prix. Eleven-year-old Aran comes from a supportive American military family. His dad took a tour in Kuwait so they could be placed closer to a city with a good ballet program for Aran (they currently live in Italy). Aran meets Israeli Gaya (both pictured above) in ballet class and they are inseparable during competitions. These pre-teens are proficient dancers, and their facial expressions throughout their interactions with each other and on stage are fun to watch.
Colombian Joan Sebastian, 16, has impeccable form and dreams of dancing in the Royal Ballet. He lives in Queens with a roommate, dearly homesick for his family in Latin America. Michaela, a 14-year-old studying ballet in Philadelphia, is a native of Sierra Leone. After suffering through the civil war that ravaged her home country, the young girl was adopted by a New Jersey couple. As Michaela dances, emotion emanates from her. She is a powerful talent (and my favorite dancer in First Position, I confess).
Kargman also introduces us to Rebecca, 17, a pretty blonde who surrounds herself with pink. And there's young Californian pre-teen Miko, determined to be a great ballet dancer. Both these girls have the gumption and skill, but their dancing seems cold and lacking in feeling compared to the other kids in the movie. The bright side in following Miko is that her younger brother Jules is hilarious. He confides in the viewer that the main thing he's able to pull off while dancing is a smile.
The instructors working with these kids run the gamut from a smoking Frenchman (Aran's) to an American couple of former dancers (Michaela's) to a bossy Russian (Miko/Jules') and more. These ballet experts contribute to the humor of First Position. Rebecca's teacher tells us that great ballet is not only about a body in proportion, but "tenacity" -- which might also apply to this documentary.
The overall form of First Position is fairly predictable ... well, except for who will win what at the final showdown. Interspersed in the film among the childrens' stories are segments that seem like "Bet you didn't know this!" inserts. For example: not all ballet dancers are anorexic! Dancers' feet are really beat up and gross! You get the idea.
The editing during the dance numbers is needlessly quick in spots, and there are a couple of moments where interviewees seem out-of-focus. Luckily, the dancers give the film a tenacity and keep us watching despite itself. If you liked Mad Hot Ballroom or Spellbound, you will likely appreciate First Position.