Hill Country FF Review: 6 Month Rule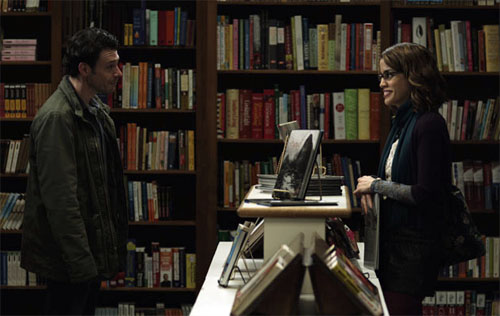 Romantic comedies are a dime a dozen these days, whether they're Hollywood films trying to eke laughs out of cruel jokes and raunchy humor, or indies with the ever-popular Manic Pixie Dream Girl and an overly earnest soundtrack. 6 Month Rule, which I saw at Hill Country Film Festival, looked like it might fall into the latter category ... but some very real emotional scenes and a refreshing lack of artificiality made it a standout movie.
Tyler (Blayne Weaver) has a lot of rules about his frequent and brief relationships with women -- when to call (or not), what to say, how to "fade" out of a relationship, and how long it takes before recuperation from a painful relationship is complete (the title rule). A montage of breakups with women in the same bar, using the same lines, says it all. When his best friend Alan (Martin Starr) loses his fiancee to another man, Tyler takes him in and attempts to teach him the rules and find him someone even better.
But in the meantime, Tyler keeps running into Sophie (Natalie Morales), a very charming artist, who seems to be a cut above the women he usually dates. His meeting her coincides with some very good luck in his photography career, too, in which he has a chance to take a break from photographing food for ads and shoot an up-and-coming musician, Julian (Patrick J. Adams). Somehow all these things entwine and threaten to disrupt Tyler's carefully ruled life.
While 6 Month Rule has a few tidy coincidences, the emotions and storyline don't always follow the well-trod path of romantic comedy. In addition, while I'm calling this a romantic comedy, the emphasis is on romance and relationships, including the friendship between Tyler and Alan. (I refuse to use the word "bromance" and can we please just forget it was ever coined? Preferably before someone uses it to describe Casablanca? Thank you.)
The strong performances make these characters more than archetypes, as well. Sophie could very easily have fallen into the Manic Pixie Dream Girl type, but Morales adds depth and emotion to make her more of a real person. Writer-director Weaver is charming as Tyler without being a jerk about it. But I particularly enjoyed Martin Starr, whom I'd seen before in Party Down, as the chronically glum Alan, and Vanessa Branch as Tyler's longtime friend-with-benefits Wendy. Dave Foley has a couple of scene-stealing moments as a friend of Sophie's.
Apparently 6 Month Rule had its world premiere at Austin Film Festival in 2011, and I'm sorry to say I didn't notice at all -- I was focusing hard on local and regional movies. I'm happy to have had a second chance to see it at Hill Country Film Festival, where it was very hard to miss, and I hope we'll see it in Austin again soon.
One quick note about location, although this film wasn't shot in Texas: Weaver told me, the night before 6 Month Rule screened, where it had been shot. I completely forgot about it and while watching the movie, assumed it was Chicago or somewhere similar -- it had that big-city feel to it. But no. The movie was shot in Shreveport, Louisiana, and you'd never have known that if I didn't tell you, unless you've lived there yourself. Impressive.