Hill Country Film Festival 2012: A Perfect Friday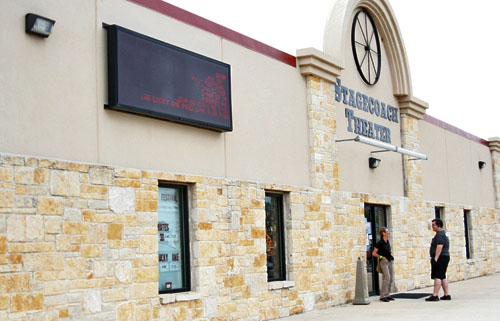 Two out-of-town film festivals in one month -- what a jet-setting life I lead, except I barely left Central Texas. I went to Dallas International Film Festival two weeks ago, and last weekend I drove over to Fredericksburg for a few days at the Hill Country Film Festival.
As with Dallas, once again I got a late-ish start and tore out of the house and on the road unsure whether I'd get there in time for the first movie I wanted to see. In this case, I was less concerned because I figured if I missed the movie, I could get settled with food and check in to my B&B, and see the shorts program after it instead. Still, I rushed directly to the theater, and thank goodness the feature had a short in front of it, because I slipped in just as the feature started.
The movie was The Perfect Family, and I wrote a separate review, mainly because I had started writing a "brief" review as part of this article and then noticed it was 500 words long. At any rate, it was a nice entertaining way to start a festival experience and relax after 90 minutes of focused "in a hurry" driving.
After the movie ended, I decided to grab some lunch and find my B&B, a house divided into three suites. I had one on the first floor -- a nice setup with two rooms and a lovely deck in the back, overlooking a lot of pretty wildflowers. (It's called Cyclismo if you're interested.) For those of you who don't know much about Fredericksburg, it is the Land of a Thousand B&Bs (although I notice many of them are actually only one B and don't include breakfast ... mine didn't, other than coffee and tea). Hill Country Film Festival actually had an official fest hotel but it sold out quickly, because Fredericksburg fills up very fast on weekends in the springtime when it's not too hot and the wildflowers are blooming.
I got myself settled in and then drove back to the Stagecoach Theater -- the fest's venue -- in time for the second feature film of the day. The theater was only a short drive from my rooms so I could go back and forth easily all weekend. It's a nice theater with extremely comfy seats, by the way, if you are ever in Fredericksburg.
American Man is a documentary about Kevin Turner, a former University of Alabama and pro football player who has been diagnosed with ALS (Amyotrophic Lateral Sclerosis), aka Lou Gehrig's disease. We see Turner in the early stages of the disease, in which his arms are giving him difficulty in driving and dressing and other ordinary tasks. Eventually, inevitable, ALS will make it impossible for him to walk or speak and ultimately, he won't be able to breathe. Turner is an engaging man, easy to like and watch.
Filmmaker Jon Frankel follows Turner through his daily life, which not only includes time with his kids but also medical visits and speeches to raise awareness about ALS and one of its causes: repeated concussions sustained through playing football in a way that is unsafe. The movie provides info about current football safety issues, especially for children and young adults, and how this can put players at risk for ALS. However, it's never preachy -- the focus is on Turner himself. Turner has to decide whether he should let his two sons play football at school -- he loves it, they love it, but he's understandably worried about problems for them in the future.
I recommend seeing American Man if you have the chance, but bring Kleenex. You'll need it, especially during the scene in which Turner meets Steve Smith, a former running back dealing with a far more advanced state of ALS, who lives in Richardson.
The third feature of the day, at 7 pm, was Sironia, a movie I'd seen during Austin Film Festival (Jenn's review). So I decided to get some writing done, maybe have some dinner. One of the great things about staying in a place with a kitchen was that I could head to the grocery (about two blocks from the B&B) and grab some supplies. I was able to get a bit of writing done, have a light meal, and watch Stage Door on TV. I have to say, Stage Door was a great accompaniment for finishing my Damsels in Distress review.
I returned to the theater in time to catch the end of Sironia and hear the Q&A with filmmaker Brandon Dickerson. I had forgotten that the cast included Dallas native Amy Acker, whom I'd just seen in The Cabin in the Woods. Dickerson's family was also at the screening, handing out CDs with the Sironia soundtrack to audience members.
After the Q&A ended, almost everyone headed to the evening's party, at Auslander on Main Street. (Yes, Fredericksburg has a Main Street. It is lined with cute shops and German restaurants.) I am not usually a big party person, but I decided to drop in. It was crowded and rather noisy, and I figured I would stay maybe 20 minutes.
But then I ran into Carrie Hoover, who used to work for Austin Film Society (we met at the AFS/Slackerwood happy hour) and who was volunteering for the Hill Country Film Festival, and then I met the Satellite of Love filmmakers, whom I'd seen from afar at Dallas International Film Festival, and then another filmmaker tried to convince me to stick around on Sunday for his short, and I met the filmmaker behind 6 Month Rule, which was screening on Saturday ... and next thing I knew, last call was long over and we were being gently urged out of the place before midnight. I'd been there 2.5 hours and nearly lost my voice.
I headed back to my B&B and wound down by watching weird things on cable TV (which we don't have at home) ... for some reason I am fascinated by those shows where people buy the contents of storage units and hope for treasures inside. I figured out my Saturday schedule, and headed for bed. It was one of the most enjoyable and least stressful film-fest days in recent memory.