Review: The Five-Year Engagement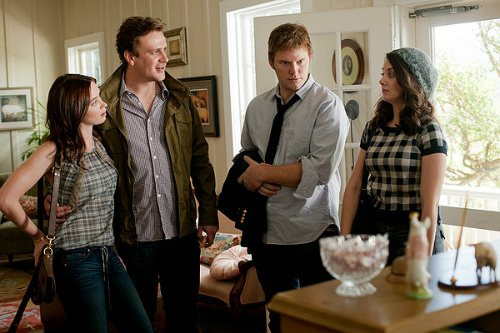 The Five-Year Engagement is from the same writing team that brought us The Muppets: Jason Segel and Nicholas Stoller. Stoller also directs, while Segel plays part of the main duo. His Tom Solomon is a sous chef in San Francisco who proposes to his best gal, Violet (Emily Blunt), in the opening moments of the film. Violet is a grad student and the only school that accepts her for their Psychology program is in Michigan, oh no! Well, given the title of the film, you know their journey to the altar will be extremely slow, if it ever happens at all ...
Blunt, whose role of Violet was written specifically for her, and Segel are hilarious through the years of mishaps and trials that come their way. Their attempts to get hitched never seem to come to fruition; in contrast, Tom's chef pal Alex (Chris Pratt) and Violet's younger sis Suzie (Alison Brie) speedily fall for each other and pull off a fast and quirky wedding. A related note: if you are a fan of the song "Cucurrucucú paloma," you may never hear it the same after watching this movie.
Although it's not your "typical" romantic-comedy, The Five-Year Engagement is as predictable as one. There are many plot elements in this film which we've seen before and will see again, I'm sure, such as the thwarted career path, lack of communication between the protagonists, a skeezy professor (Rhys Ifans) you know from the start is gonna mess things up between the couple, and more. The things that kept me interested in the film were the main players and the large amount of humor involved. There's a little bit of something for everyone as far as the laughs are concerned: the raunchy, the scatalogical, the punny, physical humor. Basically, I laughed, often. My friend laughed so hard that she even snorted a few times.
Pratt's Alex is vaguely similar to the character he plays on Parks and Recreation -- Alex isn't quite as clueless as Andy usually is, and lacked some of Andy's heart, but still. And who knew Brie could pull off a Brit accent? She also can do a very convincing Elmo voice. Blunt's Violet is earnest and bright, but still the type of woman who tells her guy, "I wanna get weird with you tonight." Tom, as Segel portrays him, tries to pull off a happy-go-lucky demeanor, but gets kinda dark.
The supporting cast is overloaded with talent. Twitter darling (and Office staffer) Mindy Kaling shows up as a snarky grad student in Violet's program. Familiar faces Kevin Hart and Randall Park round out that team. SNL alum Chris Parnell plays a stay-at-home dad (friend of Tom's) who knits his own sweaters and hunts. David Paymer (who I will always associate with The Commish) and Mimi Kennedy feature as Tom's parents, who help get the slowed plot moving again in a pivotal scene.
The Five-Year Engagement left me with mixed feelings. In the moment, it is enjoyable to watch, and quite laugh-worthy. But afterwards, the more I considered how unoriginal so many of the plot elements were, the more I felt slightly let down by the film.