Lone Star Cinema: Hope Floats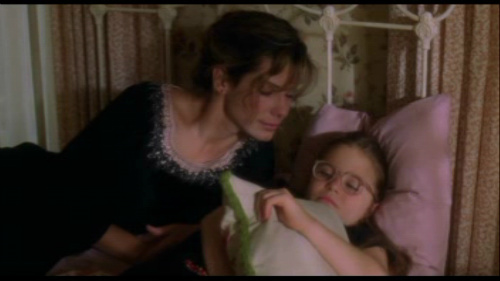 I originally saw Hope Floats in the theatre the weekend after I had my wisdom teeth removed. I loved the film, and even bought myself the soundtrack on cassette tape. As the pain medication I was taking wore off, I wondered if the movie was quite as lovable a film to watch when completely lucid. So, over ten years later, I re-watched the movie (to write up for this site).
Sandra Bullock stars as housewife Birdee, whose heart is broken on national television when her best pal confesses the long-term affair she's been having with Birdee's hubby. So Birdee and her forlorn child Bernice (Mae Whitman) pack up their Ford Taurus station wagon and head to her Texas hometown, where Birdee's mom Ramona (Gena Rowlands) still lives. The three females learn about each other, and Ramona practically forces her newly-separated daughter into a new relationship.
Hope Floats is based in Smithville, Texas, where it was actually filmed. Some lovely landscape shots of the Smithville area appear amongst the hokum of the film. Smithville is a small town with a large welcome sign you can view from Highway 290 as you head to Houston. As Bernice spitefully states to Harry Connick Jr's hunky carpenter Justin (love interest for Birdee), Smithville "wasn't on any maps until we got to Texas." Which dates the film, because obviously Smithville is now a snap to find on Google Maps. Other things that mire the movie in the '90s: Don Was as soundtrack producer, the requisite Bryan Adams song on the soundtrack, and more slo-mo usage than is necessary.
Native Texan actor-director Forest Whitaker helmed this romantic comedy after the success of his first feature, Waiting to Exhale. Unlike that earlier film, which balances well a mix of humor and drama, Hope Floats falters throughout. Birdie's true motivation and desires -- besides her wanting to be a loving mom to Bernice -- are unclear. Maybe she wants to be a photographer? Her actions never seem to be her own choice; they always tend to be as reaction to someone or something. It could be said that Birdee lost her sense of self during her marriage, but then, shouldn't she recover some semblance of it by the end of the film? Honestly, Bullock can't be at complete fault for this if the original character written by Steven Rogers didn't give her much to start with. I will fault Bullock for her less-than-convincing Texas accent, however.
Poor Mae Whitman acts (and overacts) her little heart out in Hope Floats. I wrote in my notes, "Mae Whitman's faces!!!" Being able to witness this, as well as the opportunity to see Gena Rowlands' sweet performance, could make the film worth sticking out if it's on cable and you're flipping channels. But with the strange editing and fade-outs, as well as the wishy-washy lead character of Birdee, Hope Floats is fairly forgettable.
[Screencap via Fanpop]