Review: Undefeated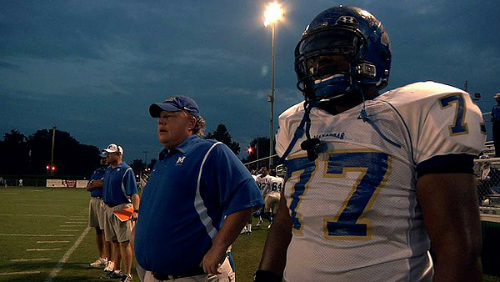 "If you will allow it, football will save your life," a troubled student athlete is told in Undefeated. This could be the motto of this documentary depicting the impact of the sport on the lives of four Tennessee residents. A deeply moving look at the 2009 season of Manassas High's football team -- which screened at SXSW 2011 -- the film won the Best Documentary Oscar in February and is back on Austin screens this week.
Situated in blighted North Memphis, Manassas High has served as a sort of punching bag for other teams; it's the kind of team that gets bused in for richer schools to beat. Bill Courtney, an area businessman and volunteer head coach, is in his sixth year of leading the guys. He is determined for the team to make the playoffs, since Manassas has never done so. "This is our season," he states optimistically. "I don't care what happens."
Courtney spends hours of his free time forming the team, coaching the kids and mentoring them. He develops strong relationships with the boys on his team. I initially worried the doc would portray Courtney as a type of "white savior" (see The Blind Side), but the strong bond he builds with the kids on the team goes beyond that. Co-director T. J. Martin told The Root, "it's completely circumstantial [that Courtney's] business happens to be in North Memphis, and Manassas High School happens to be right down the street from [his] business. [He] happens to be white, and they happen to be an all-African-American team. So if it wasn't a big deal to our characters, then [there] was no need for us to make a big deal out of it. It was not a big deal to the community or the kids."
As the Undefeated filmmakers follow Courtney, they also focus on three of the players. Senior O.C. Brown's story is what originally drew directors Daniel Lindsay and Martin to North Memphis. Brown is the only senior on the team with a chance of getting scouted by a college team, but his family worries he can't keep his grades up while he plays football. Therefore, the coaches devise a plan to keep Brown tutored. But will this be enough to help him pass a college entrance exam?
Fellow senior Montrail "Money" Brown (no relation to O.C.) knows his smaller stature means he can't get to college on a football scholarship, so he retains a high GPA and high hopes. I couldn't help pulling for him while watching the trials he faces during this season.
Junior Chavis Daniels has recently finished a stint in juvenile detention and has serious anger control issues. Through the film, Chavis transforms from a seemingly callous kid who explodes at the drop of a hat to a young man attentive to how his actions affect others. The impact Coach Courtney has on the kids is that visible. Even in loss, the coach assures them that "football reveals character." Of course, we also witness how Courtney's dedication to the Manassas High football program is wearing on his own family.
I started Undefeated as a skeptic, but as the film progressed, the story of these four guys and their football program drew me in. I cheered aloud as I watched their games, and cried as one of the players received amazing news.
There's no emotional manipulation in Undefeated. The onscreen dialogue and action is honest and real, and the emotions the movie inspires are the same. Not only that, but there are moments of true beauty revealed in this sports documentary. As the players walk out onto the field at one of their games holding helmets high, Lindsay and Martin capture the sunset behind them. I don't watch many sports movies, but Undefeated is definitely one of the best I've seen.
[Editor's Note: You can also check out Slackerwood contributor J.C. De Leon's review of Undefeated at ScreenInvasion.]