SXSW Review: Wonder Women! The Untold Story of American Superheroines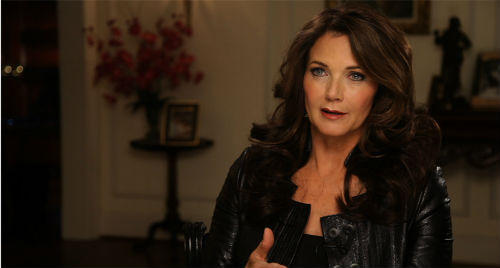 Those of us who are geeks of the female variety have often lamented about the scarcity of admirable leading female characters, and that's certainly true in comics. What makes Wonder Women! The Untold Story of American Superheroines stand out is that it explores the history of superheroines, particularly the iconic titular character.

Wonder Women! begins explaining not just the genesis of the character but the evolution of superheroines over nearly a quarter of a century. The interviews include experts from scholars, writers, actresses and even fans, from Gloria Steinem to Jane Espenson and Lynda Carter (pictured at top). It may be surprising to learn that the original character was written by a man who believed there would be a social shift towards matriarchy -- perhaps despite the titillating appearance of a chesty woman in a bustier.

The first half of Wonder Women! stays focused on the history and the social and political pressures that changed the title heroine from one helping the Allies defeat Fascism to a nearly helpless fetish figure more in need of rescue than doing the rescuing. Unfortunately, the latter half of Wonder Women! falters as it shifts focus toward young filmmakers, not to mention the scarcity of interviews with men, especially in the comic and graphic novel industry. It also diffuses the focus from comic characters to cinema and television, and not just on characters adapted from comics. It skips over the double-edged significance of Star Trek's Uhura -- especially in the 1960s, which is more relevant that an extended sequence about a filmmaking project for girls (in terms of a cohesive film).

For those of use who were girls in the 1970s, this documentary is a reminder about how the "second wave of feminism" hasn't completely liberated us. Despite the missteps, Wonder Women! The Untold Story of American Superheroines is worth viewing as a reminder that not all superheroing characters were marginalized or hypersexualized.
Wonder Women! screens twice more at SXSW.

Austin/Texas connections: Producer Kelcey Edwards was a programming apprentice at Austin Film Society, and executive producer Erin Prather Stafford is a native Texan. The film features Shelby Knox (The Education of Shelby Knox), additional cinematography by PJ Raval, and graphics by Yen Tan.