SXSW 2012, Day One: Winter Arrives In Austin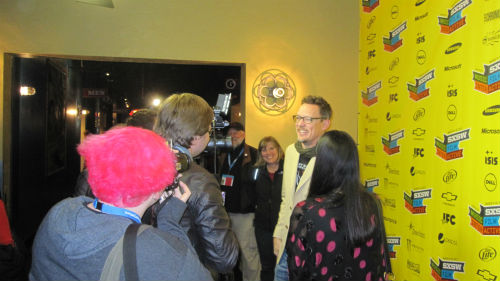 Remember how I mentioned in the Insider's Guide for SXSW to plan for all sorts of weather? Betcha you're glad you listened. Or peeved that you didn't. Bit nippy out there, huh? No worries, it will be balmy in a few days. I'm glad I picked up my badge Thursday afternoon; on Friday, the lines were hours long at one point. On early Thursday afternoon, I spent more time walking the labyrinth in the registration room than I spent waiting for my badge.
I stopped by the Beginners Guide to SXSW Film panel, which had some great classic tips (Network! Plan but be flexible! Ride the #3 bus! -- the last from yours truly in the peanut gallery). After a quick dinner, it was off to Thale.
I should point out that I rarely go to official opening-night movies at any festival. I usually find a gem playing opposite, and it's a great way to support filmmakers who might not have a full theater because of the siren call of Big Names. Not dissing Joss Whedon or Cabin in the Woods, but one of the bet things about SXSW is seeing the films you might not see elsewhere, and you know Cabin in the Woods will play at a theater near you in another month or so. That wasn't the case for Thale, which sold out despite the rain and the cold -- the Alamo Drafthouse South Lamar lines are all outdoors -- and an inexplicable delay in seating. Perhaps it was because Matthew Lillard was there for the Fat Kid Rules the World red carpet (pictured at top)?
Thale (think "taller" as pronounced with a Boston accent) is an atmospheric thriller where two crime-scene cleaners get caught up in the mystery surrounding a not so empty house. Thale. I suspect the audience was more subdued than they might have been, as no one even seemed to react that Paul Qui was in the festival bumper before the film.
Next up was another reminder of how to do a festival: be flexible, even when it's because you're wimping out. I wasn't planning on seeing God Bless America, as I was not a fan of Bobcat Goldthwait's World's Greatest Dad. I was there at Alamo already, I didn't want to make much effort, and so many friends were seeing it that I caved in. And it turns out that God Bless America is going to be hard to top, although it's not all that easy to view. It's a bit eerie to see your own rants played out on screen (although mine are sans bloodletting).
If you've ever been fed up with the vicious narcissism of the social media age, you'll champion God Bless America. Joel Murray is amazing in it; if you thought he was good as Freddie Rumsen in Mad Men, you're in for a treat, as his performance is likely to top best-of lists this year. Director Goldthwait was at the screening and did a Q&A afterward with Murray and co-star Tara Lynne Barr.
I've honestly no idea what I'm seeing today. I want to see Trash Dance, but it conflicts with both Girl Model and Taiwan Oyster, all in the same relative timeslot. I do hope I get in to Eating Alabama in the first slot (as a foodie and a fan of fresh and local food, it's a must-see). But before I do, I need sleep. I'm already exhausted and the fest just started.