Review: Coriolanus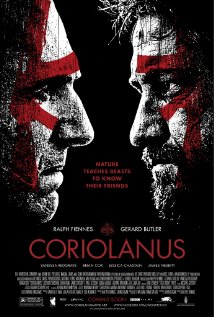 In 1996, Baz Luhrmann updated Shakespeare's Romeo and Juliet with modern imagery and a menagerie of hot young talent. In doing so, he produced a magnificent movie that, love it or hate it, everyone must admit was a grand spectacle. It made Shakespeare's most famous and beloved work accessible to Generation Y with rich visuals, Luhrmann's unique direction, and a cast with many soon-to-be household names. Now, in his first feature-film directing effort, Ralph Fiennes stars as the titular character in a similar though less successful effort to update Coriolanus, Shakespeare's least-produced and probably worst-known play.
While this movie is by no means unworthy, Coriolanus is not a work that really captures the imagination or emotion. Several factors contribute to this, both in the source material and in Fiennes' production. There are barely two scenes in the entire film that don't include Coriolanus, one of the most unrelatable and unsympathetic heroes in English literature. The production design is best described as 1960s Soviet Afghanistan, more bleak and less colorful than most concentration camp scenes ever set to film.
If ever a modern take cried out for a classical reimagining, it is this one. Rome, at the height of its power, is depicted with all the pomp and flair of North Korea five minutes after the death of Kim Jong-Il. The melange of accents is distracting and includes Scottish, English, vaguely Italian, and American, and I even noted one character credited as "Jamaican Woman."
The largest mistake Fiennes made with Coriolanus was in casting himself in the title role. Not only did I feel an immediate antipathy watching him, as he appeared completely uncomfortable and out of place in his uniform, but as a first-time director, the demands of the job are in conflict with portraying a role that is in front of the camera for 99 percent of the movie. At times, Fiennes seemed to be acting more the part of Voldemort than a Roman general, and I quickly found I did not care what the character did nor what would happen to him. The saving graces of Coriolanus were the score and the performances of Vanessa Redgrave and Brian Cox.
Redgrave, as Coriolanus' mother Volumnia, gives one of the most expressive and decisive roles of her career, with more steel than Meryl Streep's Iron Lady. Cox, as Roman Senator Menenius, delivers Shakespeare's dialogue with an ease to be expected of a native 17th-century Englishman. He has a grace and charisma in stark contrast to Fiennes' role. Unfortunately, the talents of Gerard Butler (Aufidius) and Jessica Chastain (Virgilia) are wasted in these roles (and I think reversing Butler and Fiennes' parts could have resulted in a truly great film).
The score from composer Ilan Eshkeri (Kick-Ass, Ninja Assassin, Stardust) is the best work in Coriolanus. Minimalist, warlike, rhythmic percussion dominates and sets the tone in scenes where the visuals are so bleak. The end-title song, a surprising a capella performance by Lisa Zane, is reason enough to purchase the soundtrack.
For a film about a Roman general, Coriolanus has very little action. I wish I could say it takes a cue from The Phantom Menace, but of course the dialogue-heavy source predates that by a few centuries. I sincerely hope Fiennes realizes he was in over his head with this and chooses not to star in the next movie he directs.