Lone Star Cinema: Paris, Texas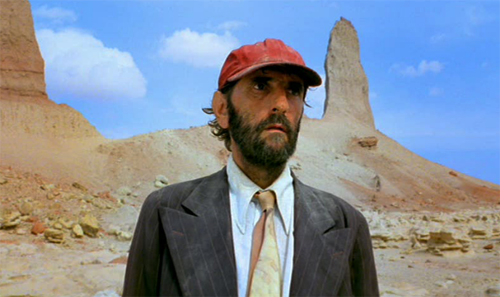 In a career spanning more than four decades, director Wim Wenders has delivered an eclectic mix of feature films, shorts and documentaries for the big screen and television. With Wenders's latest documentary, Pina, opening in Austin soon, it's a good time to look back at what may be his most celebrated movie, the inimitable Paris, Texas.
Released in 1984 to wide critical acclaim, Paris, Texas is the story of reticent oddball Travis Henderson (Harry Dean Stanton), who wanders deliriously out of the desert into Terlingua, Texas as the film opens. A local doctor treats him and contacts his brother, Walt (Dean Stockwell), who travels from Los Angeles to reunite with Travis, a lonely and damaged soul who has been estranged from the family for years.
On a difficult road trip back to Los Angeles -- Travis refuses to speak at first and has a penchant for disappearing if left alone -- the two brothers gradually warm up to each other again. We learn that Walt and his wife, Anne (Aurore Clément), have been raising Travis's 7-year-old son, Hunter (Hunter Carson). Travis's wife, Jane (Nastassja Kinski), is also estranged; beyond making monthly deposits from an unknown location into a bank account set up for Hunter, she has no contact with the family.
Travis and Hunter are reunited in Los Angeles, but it's more like meeting for the first time; Hunter considers Walt and Anne his real parents and wants little to do with the quirky drifter who abandoned him years earlier. But the boy cautiously accepts Travis as his father, and the two form a familial bond that carries them through the rest of the film as they search for the long-lost Jane.
It's little surprise that Paris, Texas is now a revered classic, given its prestigious source material (a Sam Shepard play adapted by L.M. Kit Carson) and its talented director and cast. The story is simple but powerful, an unforgettable character study and a poignant examination of what it means to be a family. The tone is quintessentially Wenders, a lyrical portrait of American life. Everything happens against a backdrop of empty Southwestern vistas, decaying small towns and soulless urban seas of concrete, all stunningly captured by director of photography Robby Müller. The Ry Cooder score also is notable, full of bluesy and gritty guitar riffs that punctuate the film's many intense moments.
Stanton owns Paris, Texas; I'd argue that the hangdog Travis ties with Bud in Repo Man as the actor's best and most iconic roles. He drifts through the story with a droopy face and droopier outlook, somehow finding the strength to restore family ties, but approaching everyone and everything with reluctance rather than optimism.
Stockwell and Clément also shine as Travis's ever-patient brother and sister-in-law, and young Carson seems perfectly at home in front of the camera as Hunter, giving a mature performance for his age. On the other hand, Kinski's role is limited, and her take on Jane isn't quite in league with the rest of Paris, Texas. She's only sometimes believable; her Texas drawl often sounds suspiciously German.
It's also little surprise that Paris, Texas merits the Criterion Collection treatment on DVD and Blu-ray; both formats are the same price and include the same extras, so I recommend the Blu-ray for its outstanding picture quality. (Müller's brilliant visuals deserve nothing less.) The disc is typically Criterion, with lots of extras and a slick booklet loaded with color photos, interviews, technical details, and "On the Road Again," an insightful essay by film critic Nick Roddick.
The extras are what you'd expect from Criterion -- a timeline, chapters, a commentary track by Wenders, interviews, deleted scenes, two photo galleries (including Wenders's exquisite Southwestern landscape photos), a trailer and English subtitles. There is also The Road to Paris, Texas, a documentary featuring interviews with Wenders, Stanton, Müller, Cooder and others, and Cinéma cinémas, a segment from a 1984 French television program featuring interviews with Wenders and Cooder.
Austin/Texas Connections: Ironically, Paris, Texas was not filmed in Paris, Texas. But it was filmed in many other parts of the Lone Star State, including Houston, Galveston, Port Arthur, Nordheim, Terlingua, Fort Stockton, Marathon, El Paso and Big Bend National Park.