Review: Extremely Loud and Incredibly Close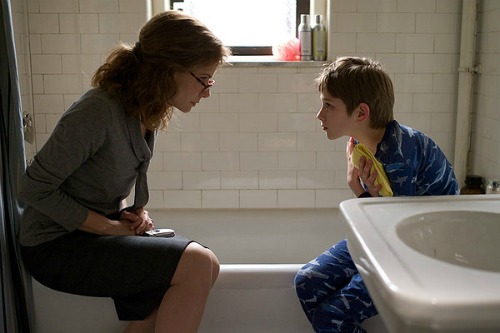 Some of my favorite movies happen to feature wonderful child actors, such as A Little Princess (the Cuarón version), About a Boy, Mostly Martha and Little Miss Sunshine. I say that to preface this statement: I can't recall the last time I've been so annoyed by a child actor as I was during the preview screening of Extremely Loud and Incredibly Close. This is a problem, as precocious Oskar Schell (played by newbie Thomas Horn) is in most of the film. And it may have been the character as much as (if not more than) the actor that made me want to walk out of the theatre halfway through.
Oskar is a very troubled child. His father Thomas (Tom Hanks) was killed on 9/11, and they had an extremely close relationship. Thomas had told his son about a lost sixth borough of New York, and Oskar began investigating what had happened to it. A year after 9/11, Oskar stumbles upon a hidden key in his dad's closet, and determinedly sets out on a search into what this key will unlock. The key was in an envelope with "Black" written on it, so Oskar meanders around the city and its boroughs talking to anyone with the last name Black that he can find, shaking his tambourine along the way.
This kid has Asperger's-like symptoms as well as various phobias. He yells at his mom Linda (Sandra Bullock), talks to grandma (Zoe Caldwell, The Purple Rose of Cairo) across the street via walkie-talkie, chides the doorman (John Goodman, pretty much wasted in this movie) and confesses his story to the elderly mute man (Max von Sydow) renting a room from his grandma. His aggression towards himself and others is hard to watch. I couldn't understand his motivation for keeping certain things secret, and found it a challenge (nigh impossible) to emotionally connect to the young character.
Sandra Bullock, Max von Sydow and -- in their limited appearances -- Viola Davis and Jeffrey Wright are the saving graces of Extremely Loud and Incredibly Close. Bullock's performance grounds the film. Her Linda knows the relationship her husband had with her son was much closer than the one she has with Oskar. She's frantic after the attack in 2001, and her son is uncommunicative with her after she rushes home that morning of "the worst day." Von Sydow's placid renter gets pulled into Oskar's search and helps calm him on a subway. Davis and Wright play an estranged couple who become involved in Oskar's story.
Directed by Stephen Daldry, the film moves at an uneven rhythm. The scenes between Thomas and Oskar tend to bounce with energy, but other segments lack any energy whatsoever. The score by Alexandre Desplat is contemplative, but not very memorable. The set design crew deserves some credit, however. Extremely Loud and Incredibly Close is very much about place, and Daldry's team creates environments that give us further insight into characters -- even the ones who appear somewhat fleetingly.
Over ten years after 9/11, America is likely more prepared for an emotional, reflective film dealing with the World Trade Center attack. Extremely Loud and Incredibly Close tries to be just that, and falls sadly short. The movie is not as twee as the trailer would have you believe, but really, that's not saying much.