Fantastic Fest Interview: Eric Vespe and Aaron Morgan, 'No Way Out'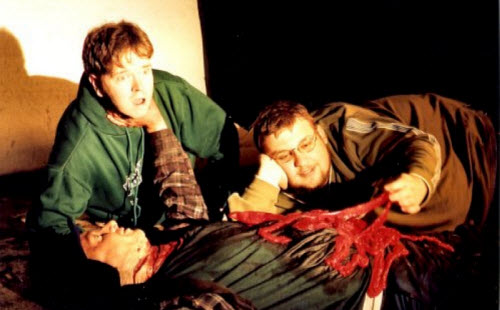 Claustrophobia? Check. Dark rooms? Check. Things that go bump in the night? Check. A crazed gentleman in excruciating pain? Check! If you checked of any of those items, you definitely need to see the short film No Way Out, staring AJ Bowen, at this year's Fantastic Fest.
I recently had the opportunity to screen the movie and discuss it with local filmmakers Aaron Morgan and Eric Vespe. We chatted over tacos and queso at Austin's famous institution Torchy's Tacos.
Slackerwood: How did you two meet?
Aaron Morgan: I used to host touring short film festivals with Atom Films back in 2000. One of the places I did the short film fest was at the original Alamo on Colorado. I'd been a fan of Eric's writing on Aint it Cool for a while and I invited him out to watch the short films.
Eric Vespe: I almost didn't show up. It was like over Mardi Gras and I'm like I don't want to brave
downtown during Mardi Gras. Lets just say if the Ritz had been the Alamo we probably wouldn't have met.
Morgan: Afterwards we ended up chatting about movies and really hit it off. It was sort of brothers from another mother at first sight.
Vespe: You know how it is when you run into somebody and you can quote movies into your conversation and have it mean something.
[Aside from Rod: I can attest to the fact these guys are like Lewis and Martin. During the interview they completed many of each other's sentences. They do complete each other, if you ask me.]
Did you live here at the time?
Morgan: Not at the time. I was at another university and I transferred to finish film school here at UT. There was a book I wanted to pursue the film rights to, a horror novel. I wanted to get into filmmaking to work with people that are much smarter and better than I am. My first step into that world was asking Eric to come and write with me.
We made a short film together called Blind and had a good time doing that. And then we've spent the last couple of years working on The Home, which we are still working on.
Vespe: The first draft of The Home was finished in December 2006. When I say first draft, that was a "fiiiirrrst draft." It's been through so much. The whole thing has been a big learning curve.
What's interesting about No Way Out is that we have put the last four years of learning about the process of making movies into this one short film.
So lets talk about how the actual filming of No Way Out came together.
Vespe: We actually wrote it about two-and-a-half years ago. It was right when we got The Home where we wanted it to be. We figured we might want to do something that we can pull a lot of local friends in and show what Aaron can do as a director. He's someone who can get people to believe in him really easily.
Morgan: We were on pre-production on The Home. That got pushed and we were on hiatus until the next year, so we had some time. I said, I've been in pre-production on The Home for the last nine months and I have a creative build-up. I needed to go make something. I said, you know what, we have this short script. Let's go make this.
Vespe: We knew we had a set we could use and a set of friends that would bust their asses for us ... and they did! It kind of just happened. We've been really lucky to have people around us that are willing to go to some crazy uncomfortable lengths to make this happen. We shot in a warehouse at the beginning of summer with no air conditioning. It was harsh conditions.
Morgan: It's kind of like "Stone Soup." It is a bit of a brave step to show up with the pot and the rock and ask everyone else to bring the actual food. But if you are willing to do that, most people will help you make your film. I think you would be surprised how many people would come out of the woodwork.
There are a lot of talented people out there that want to practice their craft because they love it. Thank god that Austin has such a community that they feel the same way. They just want to make movies. They want to tell stories. We were lucky enough to have them want to do that on this film.
Aaron, you seem to direct and you also write, but when I look at the credits on IMDb, Eric is listed as the screenwriter. How does this process work for you two?
Morgan: The writing process is interesting. So far it's been... I'll come up with an idea -- that's not so great -- and I'll tell Eric about it really enthusiastically. He'll be like, "Yeah, that's interesting but let me make it good."
Vespe: He's paraphrasing.
Morgan: That's pretty much the process. We'll sit down, Eric will start turning pages in. I give notes and revisions. Sometimes I'll write a big chunk of revisions. I'll give it to him and he'll take the "suck" out of it too.
Vespe: We started collaborating at such a young age. Sins [their first work together] was way different. I'd write five pages, he'd write five pages, and so on. I don't think it worked as well.
We perfected our collaboration on The Home. The secret is at the beginning of the process. A lot of brainstorming together in a room. Typically, we always know where we are going to begin and where we are going to end. The hard part is figuring out what happens in the middle. He's more involved than a typical director but he does let me work. I don't feel like my ideas aren't being heard.
Morgan: I'm a little more technical when I write, where Eric is little more poetic. I think when you're trying to convince someone to make a movie, poetry is more important. When we get to production, I can help take that and make it a little more technical.
Vespe: When it comes to No Way Out though, out of everything we have ever written, that was the easiest. We didn't revise it a whole lot. I wrote it in a day, then we had one back-and-forth, and it was where we wanted it to be.
Rod concludes: The process of interviewing these two fine gentlemen was a blast. Eric and Aaron's love of film and the craft of creating film showed throughout the discussion. I think the best part of the interview was the level of friendship these two show for each other. Where normally you might see a apri of brothers teaming up to make films together, these guys are the Martin and Lewis of horror. They are brothers, through and through, and it's the strength of this relationship that powers them through the arduous process of making movies.
No Way Out is part of the Short Fuse: Horror Shorts collection screening at Fantastic Fest. You can catch it on Saturday, September 24 at 3:25 pm, or Monday, September 26 at 3:10 pm. Don't miss it.