Movies This Week: How the Straw Lion Drives It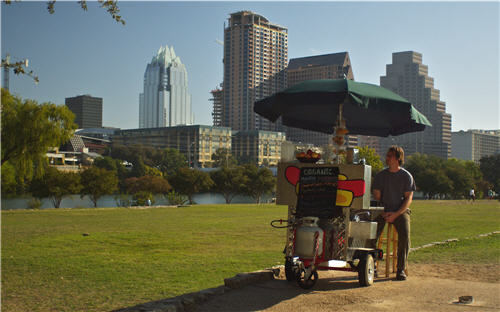 I'm really excited to see that The Happy Poet is playing again in town tonight at Austin Film Society. Presented in part by Texas Independent Film Network and Screen Door Cinema, Paul Gordon's comedic tale brings us a man with a dream, a hot dog stand, and a desire to provide near-vegetarian fare to the world. Heartfelt and funny and filled with local talent, The Happy Poet is one of my favorite movies of recent years, and with the explosion of the food-truck phenomenon, a must-see film. And if you miss the AFS screening, it'll play in San Marcos on Sept. 28.
On Sunday, Cine Las Americas has a free screening of Un Mundo Maravilloso (A Wonderful World) at Takoba. This 2006 satire from Mexico juxtaposes poverty and political ambition -- the Minister of Economy declares the end of poverty just as a homeless drunkard stumbles on the scene.
Geoff Marslett's Mars is playing at Spider House on Monday. This animated space fantasy played SXSW 2010 along with Gordon's The Happy Poet (and includes a cameo by Paul Gordon). Marslett is currently filming Loves Her Gun around town.
Then on Wednesday, Cinema41 screens Zero Effect starring Bill Pullman at The Hideout. Admission includes a free Tab soda, and the movie is followed by a Q&A with a local private investigator. I have to say that's not what I'd expect from most Q&As, but sounds interesting.
Movies We've Seen:
Drive -- I've been judging this one by the trailers, particularly the Miami Vice-esque font used (I'm a shameless font geek, and I got over Mistral in the 80s). Don says "it's a stylish, atmospheric thriller that starts very promisingly but goes nowhere, and Ryan Gosling's immense talent is wasted." Read his review this weekend for more. (wide)
I Don't Know How She Does It -- Elizabeth saw this adaptation of the Allison Pearson book, and says it "half-heartedly attempts to depict how gender roles have changed, and isn't very convincing." Read her review for more. (wide)
Straw Dogs -- Can Rod Lurie (The Contender) top Sam Peckinpah (Straw Dogs, 1971)? Does the latest adaptation of the Gordon Williams novel The Siege of Trencher's Farm go even farther into horror? J.C. saw the remake and says it's a "halfway decent home invasion thriller with a bit of a misguided focus." Check out his review this weekend. (wide)
Other Movies Opening in Austin:
Circumstance -- Director Maryam Keshavarz was also a producer on the powerful AFF 2010 selection Dog Sweat. As a director she tackles the unseen life of an Iranian family, focusing on the daughter's burgeoning sexuality and her relationship with another girl in this Sundance Audience Award winning drama. (Regal Arbor)
Crime After Crime -- Wrongful incarceration is always a hot topic and Yoav Potash's doc deals with the legal battle of an abuse survivor who spent over 26 years in prison, revealing an even more dramatic tale. Potash will be in attendance at the 5 pm and 7 pm shows on Friday - Sunday. (Violet Crown Cinema)
The Last Circus -- This Fantastic Fest selection by Álex de la Iglesia won several awards and garned even more nominations in the last year or so. Now it's finally seeing theatrical release in Austin, so check out Cole Abaius' review at Film School Rejects. (Alamo South Lamar)
Laugh At My Pain -- This cinematic version of Kevin Hart's comedy show stars Hart and Taraji P. Henson. (AMC Barton Creek Square)
The Lion King 3D -- Most of us have seen the original Disney film that made "Hakuna Matata" an annoyingly popular catch phrase before it was turned into a stunning Broadway play. But not since it's been converted to 3D. TwitchFilm's Peter Martin has some things to say about the conversion here. (wide)
Magic Trip -- This Alex Gibney (Taxi to the Dark Side, Enron: The Smartest Guys in the Room) and Alison Ellwood doc about Ken Kesey and the Merry Pranksters uses archival footage of Timothy Leary, Jack Kerouac and so many more counter-culture icons from the late 1960s, but I have to admit I'm more interested in Stanley Tucci as narrator. (Alamo South Lamar)