My Not At All Sucky Austin Comic Con Experience
November 12-14 saw Austin's very first visit from Wizard World Comic Con. In addition to this being Austin's first Comic Con, it was my own initiation to the experience, so I had little idea what to expect when I came for the third and final day of the convention. I have been to a few professional conventions, all from the world of IT, so I wasn't a complete virgin to the convention hall. The two biggest differences I saw were the costumes and, of course, the celebrities.
The first sight to greet my eyes after I checked in and entered the hall at Austin Comic Con was the 1960s Batmobile, looking as glossy and sleek as when she first sped out of the batcave. Unfortunately, I had little time to linger as the first panel of the day was about to begin, and I had to make my way to the back of the hall where the auditorium was set up for a panel on Emily Hagins' movie My Sucky Teen Romance.
If you haven't heard of Austin's sweetheart "Zombie Girl," you probably aren't reading this right now. Emily Hagins (far left in the photo at top) first infected our hearts in 2006 with her full-length teen zombie film Pathogen, begun when she was only 12, made with the help of endless numbers of friends and her mother, Megan. During the filming, the process was documented by a crew who went on to release the work as last year's Zombie Girl: The Movie. (Both movies are now available on a single DVD.) Since then, Hagins has completed and released a second film, The Retelling, and now has in post-production the vampire comedy feature My Sucky Teen Romance.
Emily and the My Sucky Teen Romance cast, including Tony Vespe, Lauren Lee, Devin Bonée, Santiago Dietche and Patrick Delgado, sat down for a panel moderated by Eric Vespe (aka Quint) of Ain't It Cool News.
Following the cast introductions was the movie's trailer and a Q&A where a couple of scenes from the film were shown, including an introduction that features Tina Rodriguez (Machete, Inglourious Basterds). The trailer features a new hypnotic track "The Kids" from local band Whoa, Palomino. The trailer is embedded below.
MY SUCKY TEEN ROMANCE trailer from Emily Hagins on Vimeo.
While publicity around Pathogen centered squarely on the fact that the horror film was surprisingly good given Emily's age, I have to stress that the clips I've seen of My Sucky Teen Romance are excellent entirely on their own standing -- very well polished and professional. Emily has assembled an energetic cast and scripted for them a smart, fun teen comedy that audiences will really enjoy. Funded by fans, friends and family through online fundraising, My Sucky Teen Romance has benefited from the participation of industry professionals such as the makeup effects team from Machete and the aforementioned Tina Rodriguez. The horror/comedy has just completed a second round of funding to cover post-production costs, and will be ready in early 2011.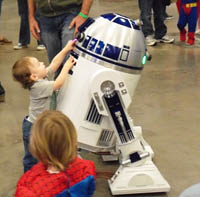 After the My Sucky Teen Romance panel, I wandered the convention floor and took a few photos. Star Wars, particularly R2D2, seemed to be the most popular theme. There was a great booth for Scare for a Cure, a hugely popular haunted-house fundraising charity in which Slackerwood contributor Debbie Cerda is heavily involved.
While my expectations were set by reports I've seen from San Diego Comic Con, Austin proved to be much more laid back and enjoyable. Even on Sunday morning, the celebrities were all at their booths meeting fans and taking photos. You could walk right up and chat with Walter Koenig, Adam West and Burt Ward, Lou Ferrigno, Kristanna Loken or Ernie Hudson in full Ghostbusters uniform. Along one side of the center hall was an enormous area filled with tables where players competed in games like Magic: The Gathering, Yugi-Oh or Pokemon. I enjoyed the displays, but more the fact that I ran into so many friends and acquaintances -- I would have met everyone I know if I'd stuck around for all three days.
After chatting with a couple of friends, I was preparing to leave when I remembered that Harry Knowles was scheduled for an afternoon panel, so I made my way back to the auditorium. Since 1996, Harry Knowles' site Ain't It Cool News has brought together fans and filmmakers, provided inside scoops on Hollywood news, and provided film reviews with a focus on genre content.
As a close friend of Forrest J. Ackerman, Knowles has been tasked with maintaining and publicizing Ackerman's creation Famous Monsters of Filmland online, serving as its editorial chief and mascot. Harry spoke for 45 minutes about this project, describing his love of Famous Monsters, his relationship with Ackerman, and how he came to be involved with the new owner of the Famous Monsters brand, Philip Kim. Of his plans for famousmonsters.com, Harry says that it will be like nothing we've seen before. We can expect a family-friendly site worthy of Ackerman's legacy. The revamped website will focus on being a place where parents can share their love of genre with their children in part through a revamped version of the Captain Company online store, which will offer collectible memoribilia such as monster masks of unparalleled quality.
Good news for AICN fans: Harry said he has no intentions of letting his work on Famous Monsters affect operations at AICN. While his initial proposal for the site revamp was nixed due to the cost, a new plan based on a revised budget is in the works, and should be ready for the site rollout in the next few months.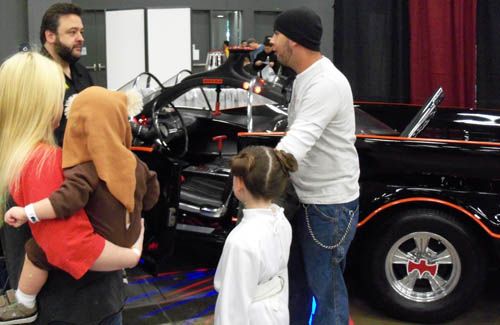 For a first-timer, the convention experience was great fun. As opposed to the film festival atmosphere, the schedule was much more relaxed, with no hurry to get from one screening to another. Everywhere you go, there's something fun to see. My two favorite costumes were the tiny tiny Princess Leia, seen with the Batmobile in the above photo, and South Park's The Coon, who readily struck a fierce pose when I laughed and called out his name. One thing I learned, though, is bring a loaded wallet with you. Even if you get free parking and skip the food, the booths are full of vendors tempting you with comics, shirts, props, toys and other fun and irresistible items. Good thing this only comes once a year, but I can't wait for the next one!
[Photo credits: "My Sucky Teen Romance Cast" by Sam Butler (used with permission); all other photos by Mike Saulters]