Fantastic Fest Favorite "Timecrimes" Gets Distribution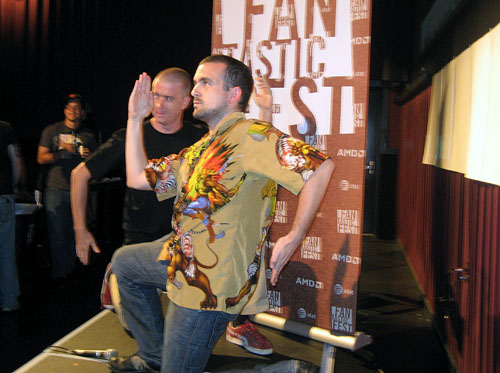 The above photo is from this year's Fantastic Fest, during the Timecrimes Q&A: Tim League and Timecrimes writer-director Nacho Vigalondo are showing off a dance that Nacho popularized during the film fest.
I like to think that Vigalondo is somewhere doing a similar happy dance right now: Magnolia Pictures has bought worldwide distribution rights for Timecrimes (except in Spain, where the film was shot). The film had its world premiere at Fantastic Fest where the buzz was amazing -- just about everyone was gushing over the film and also over Vigalondo's delightful Q&A sessions; in fact it was almost overhyped. Timecrimes won the Best Feature award and the silver audience award at Fantastic Fest, and the only regret was that Vigalondo wasn't there to chug his beer (the awards at the fest are large beer mugs).
The film then played at Sitges, where Blake at Cinema is Dope reports the reception was not nearly so warm. So I like to think that it was the good reviews and warm fuzzies coming out of Fantastic Fest that helped this film find distribution. [ETA: Harry Knowles notes that Magnolia reps did attend Fantastic Fest this year.]
You can read my own review of Timecrimes at Cinematical. I'm pleased that many people will have the opportunity to see this movie in a theater. Magnolia plans to release Timecrimes in 2008; no word yet ­on a specific date. If you're really lucky, you may get the opportunity to see Vigalondo in person at a screening -- maybe he'll even dance a bit.
[via Matt Dentler's Blog]