Movies This Week: The Kick-Ass Art of the Joneses at a Funeral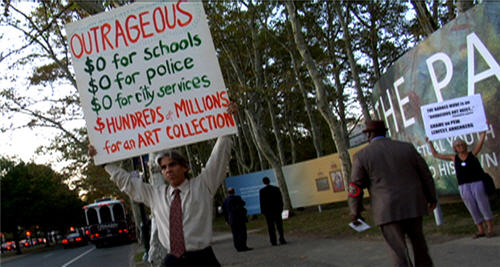 It's only mid-April, but the first blockbuster hopeful has arrived, with SXSW 2010's Opening-Night film Kick-Ass expecting to kick some box-office ass this this weekend. Officially the summer blockbusters aren't opening til May, but something tells me that Kick-Ass, a very well-named film, is going to leave some lasting impressions at the box office.
The Art of the Steal (pictured above) -- In 1922, The Barnes Foundation was scorned as a repository of "horrible, debased art" but after the turn of the millennium, the collection of Renoirs, Cezannes, Matisses, Picassos, Modiglianis and Van Goghs are the subject of a "rancorous" court battle. This wasn't on my radar, but the synopsis certainly caught my interest enough to be willing to sit in Austin's least comfortable theater to see it. (Dobie)
City Island -- Andy Garcia is a corrections officer secretly studying to be an actor, whose life and that of his family change when Steven Strait's ex-con enters their lives. Debbie has the full scoop in her review. (Arbor)
Death at a Funeral -- Dean Craig penned a scathingly funny British comedy called Death at a Funeral that made my personal best of 2007 list. His not-quite-identical script for Neil La Bute (The Shape of Things) is nowhere near as funny as the original. Go watch Texan Alan Tudyk impress a bunch of Brits with his reimagining of the British accent in the original. If you need more reasons, read my review coming this weekend. (wide)
The Joneses -- Starring David Duchovny, Demi Moore, Gary Cole and Amber Heard, this tale of the all American family is a commentary on our the America dream and supersized consumerism. But is it good? Elizabeth saw it, so read her review for more. (Arbor, AMC Barton Creek, Cinemark Hill Country Galleria)
Kick-Ass -- The first blockbuster of the season, you can finally see why BNATters and SXSW badgeholders have been raving about this deconstruction of the classic superhero genesis story -- without any superpowers. For more, read my review. (wide)
The Square -- My hands-down favorite film from SXSW 2009 finally gets theatrical release along with the incredible short that screened before it, Spider. When Ray decides to break away from his comfortable life, there are consequences, and the script written by actor Joel Edgerton is one of the twistiest out there, especially as directed by his brother Nash. Read my review for more, but go see it, because you will be talking about this one. (Alamo Lamar)
Check our event calendar for special film events, and our personal picks below. Don't forget you can always alert us to special screenings, new film series, etc.
Debbie -- I'm really looking forward to seeing The Square, especially after reading Jenn's review. Director Nash Edgerton has made a name for himself for years as a stuntman and actor, but he's also becoming a filmmaker to watch. Sounds like a great movie I can take the boyfriend to -- although he loved City Island as much as I did.
Elizabeth -- Free showing of documentary The Garden (Happy Earth Week!) on Tuesday at 7:30 pm at the Bob Bullock State History Museum. RSVP before you head over. It's sponsored by Greenling Organic Delivery in partnership with the Sustainable Food Center and Austin Film Festival.
Jenn -- I'm going to be resting up for a few days before the start of Cine Las Americas, which runs April 21 - 29.
Jette -- Austin Cinematheque is hosting a free screening of the wonderful 1941 comedy Ball of Fire, Monday night at 7:30 at the Texas Union Theater. I'm willing to brave parking around UT for it, so should you.