Review: Greenberg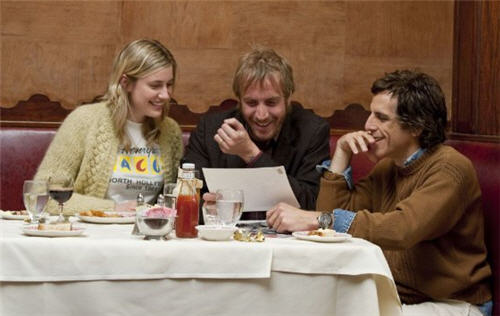 Just when we thought SXSW movies had left Austin, here comes a movie with two actors very familiar to SXSW festgoers: Greta Gerwig (Hannah Takes the Stairs, Baghead) and Mark Duplass (Mars, Humpday), although Duplass is only onscreen for a few minutes in this one. Greenberg, however, is a studio-produced film (Focus Features) from writer/director Noah Baumbach (The Squid and the Whale), and stars someone better known these days for Hollywood blockbusters than indies, Ben Stiller.
Stiller plays the title character, Roger Greenberg, although the movie begins by focusing on another character. Florence Marr (Gerwig) works as a personal assistant to hotel developer Philip Greenberg and his family living in suburban LA. They're traveling abroad for awhile and ask her to keep an eye on their dog Mahler and their house, even though Philip's brother Roger will be staying there while they're gone.
Roger hasn't been in LA for awhile -- he lived in New York and has just been released from a mental-health facility. He tries to reconnect with his friends and former bandmates Ivan (Rhys Ifans) and Eric (Duplass), as well as his old girlfriend Beth (Jennifer Jason Leigh, who also has a story credit on the film). But he's also involved in difficult and awkward interactions with Florence, who is just as socially inept as he is but in different ways. Roger is abrasive, Florence is passive and can't seem to communicate well. He needs her to drive him around town and help him with Mahler, her needs are more vague but personal.
The "two societal misfits are flung together and eventually seek solace in one another" story is a very familiar one, but it doesn't play out quite that way in Greenberg. The film doesn't take the easy way out. These aren't people who are truly nice and sweet deep down and just need to be understood by each other and the audience. Roger does jerky and annoying things throughout almost the entire film, and while Florence does eventually assert herself, she's still somewhat out of step. You wouldn't want to spend the weekend with them yourself, and you can sympathize with the other characters' difficulties in dealing with them, especially Ivan.
Despite the fact that Ivan and the dog Mahler are the only likable characters in the movie, I found myself drawn into Greenberg. At times it seems terribly personal and intimate, those small awkward moments where you can't help but feel for these people, no matter how obnoxious or off-putting they may be. Roger attempts oral sex on Florence and flings himself at her almost desperately, as if he's trying to burrow back into the womb. Florence is so self-effacing that she can't even remind Philip to pay her, and tries to downplay it when he realizes he's forgotten, despite the fact that she's obviously low on funds. At a party Philip's teenage daughter throws at the house, Roger is the middle-aged guy trying to talk to the kids and coming off in a "you kids get off my lawn" way.
Maybe it's because I'm the same age as Roger -- he's not a twentysomething trying to find his way in the world, he's a fortysomething who is lost and trying not to make the same mistakes he's made before. I totally identified with him in the scene where he and Ivan go to a party that is overrun with kids and parents, and he stands there solitary in the middle. Ben Stiller is perfect for this role -- oddly enough, he looks like an older Jesse Eisenberg at some angles, making me wonder if this is what would happen to Eisenberg's character in The Squid and the Whale as he started to approach middle age. Gerwig's character is more complex and mature than the Manic Pixie Dream Girl characters she's played in the films I mentioned above -- Florence is no rocket scientist, but she seems like a real person.
Greenberg is not an easy movie to like, and I suspect a lot of people will be too turned off by the main characters to enjoy the film. Also, the movie seemed somewhat off-balance by focusing on Florence at first, but then shifting over to Roger and making the movie about him -- even though it's called Greenberg and not Marr. And although I wanted to give the characters a good shake sometimes, Greenberg surprised me and amused me and ultimately won me over.
Austin connections: Mark Duplass, who has a small role in the film, lived in Austin while starting his filmmaking career (from This is John through The Puffy Chair). Greta Gerwig's first feature film, LOL, had its world premiere at SXSW in 2006.