SXSW Review: Tucker & Dale vs Evil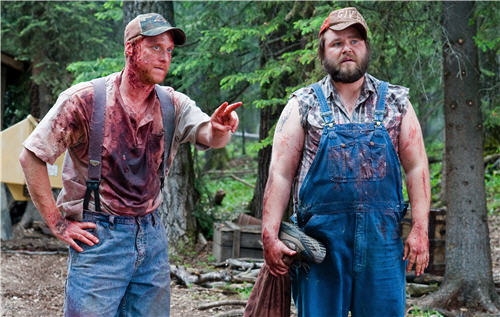 Rednecks versus college kids? That's a horror genre cliche. In the case of Tucker & Dale vs Evil, it's 88 minutes of horror comedy gold.
Tucker and Dale are two rednecks complete with an old truck and possibly older overalls who are going to their new vacation cabin for the weekend. Unfortunately, it's Spring Break, so an SUV-load of college kids are heading the same direction. Things get bloody when a coed nearly drowns.
The best comedy exposes truths and flips stereotypes on their proverbial ear, and that's the power of Tucker & Dale vs Evil. In this case, the college kids keep flipping out, assuming the earnest and philosophical Tucker (Alan Tudyk) and the soft-hearted Dale (Tyler Labine) are straight out of Deliverance. Tudyk and Labine have an onscreen chemistry that belies the fact it's their first film together and not a life-long bromance like their characters.
Tudyk's comic genius was proven in Firefly and Death at a Funeral, and his eye twitch and a well-timed word can set off gales of laughter. Labine's no slouch either, honing his craft in shows like Invasion and Reaper and now Sons of Tucson. Watching the duo onscreen is like watching a comedy team with years of experience learning each other's timing on a comedy show, which elevates Tucker and Dale vs Evil to the top of the horror comedy genre.
Director Eli Craig, who co-wrote the script with Morgan Jurgenson, did give the actors good material to work with. Tucker and Dale might be a painful pair to watch if other actors were cast, and they weren't given a story that only relied on the cliches of the genre. There are quite a few homages in the film, as Jurgenson and Craig throw in many horror devices then pervert them for humorous effect.
Tucker and Dale vs Evil is like watching a very long comedy skit, in the best way. I almost wish they were a regular skit on a show like Saturday Night Live so I could keep watching.