aGLIFF Polari 2012 Dispatch: Balloons, Bears and Bullying Teens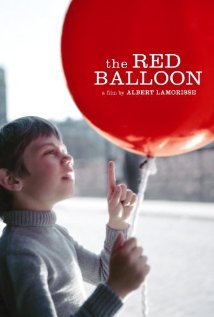 My Saturday at aGLIFF Polari began with the Family Films shorts program. This kid-friendly screening included three fantastical tales -- two of them new and one a timeless classic.
First up was The Maiden and the Princess, one of the most delightful shorts I've seen lately, about a girl in need of a different kind of fairy tale and a rogue storyteller determined to see that she gets it. Familar faces David Anders and Julian Sands topped the cast list of this short directed by Ali Scher who co-wrote with Joe Swanson.
Deflated, the second short in the program, is a local production by writer and director Dustin Shroff. A young boy is forced by convention into choosing the one green ball from a store display when the one he really wants, like all the others, is pink. Deflated was not only short, sweet and to the point, it was also accessible even to the youngest children in the audience. The program concluded with a vintage short, the 1956 winner of Cannes' Palme d'Or, The Red Balloon.
My second selection for Saturday was Heavy Girls, an offbeat German film that explores a love affair between a lonely middle-aged bear and the straight, married caretaker of his elderly mother. When independent film was described as "gay cowboys eating pudding," this is the sort of movie that might come to mind.
What begins as quirky and light-hearted evolves into something completely weird and almost wonderful, but ultimately ends on an abrupt and pointless note. The characters were uninteresting and unlikable. Extended plodding scenes filled with classical music droned the audience to sleep, and the plot was so lazy and meandering it felt completely disjointed from the sudden way the film ended. There was a little to like here, but unfortunately, it was sandwiched between too much dead material.
Sunset Stories, my last selection for the day, was a much more enjoyable experience. Co-director Silas Howard was in attendance, and he and writer Ernesto Foronda managed to pull together a surprising number of familiar faces and surprising cameos for this story of self-realization. Two former lovers chase clues around LA in search of a stolen ice chest containing human bone marrow for transplant. The path of the chest connects many interesting characters whose own separate backstories are explored. Austinite PJ Raval was the cinematographer for this, and it looks fantastic. It felt a bit longer than its 87 minutes, with a few scenes that seemed slow and repetitive, but I found it one of the more solidly entertaining entries at aGLIFF Polari this year.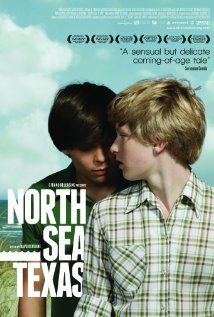 Sunday began with the pairing of short Teens Like Phil and Bavo Defurne's coming-of-age drama North Sea Texas. Teens Like Phil, by Dominic Haxton and David Rosler, is a heartbreaking take on bullying, showing the bully himself as a victim of his own fears and societal expectations as personified by his older brother. In 20 minutes, it manages to poignantly depict the situation with more veracity than most features covering the subject.
The short played very well with North Sea Texas, a Belgian tale (Texas is the name of a bar within the film) of the longing between two young men who grow up together. Lonely and bleak but simply beautiful, every character is filled with longing for something he or she cannot have. North Sea Texas explores the intensity and uncertainty of young love.
The "Mixed Up in Love: Best of Girls and Boys Shorts" collection featured some of the most fun programming at aGLIFF this year. Some of the highlights were Do You Have a Cat?, Bachelorette and Shabbat Dinner. PJ Raval was involved as DP with another entry here, The Rookie and the Runner, written and directed by Augie Robles. An illicit park rendevous becomes a lesson for a handsome jogger. As with all of Raval's work, this was slick and beautifully shot, an attribute that is important for such a "show, don't tell" film with no dialogue.
The aGLIFF Polari closing-night film, My Brother the Devil, is a stunning look at two brothers caught up in the harsh and violent world of London's criminal gangs. Older brother Rash is a respected lieutenant who helps support his family while trying to set a good example and keep younger brother Mo out of danger. His life is upturned when his best friend is killed by a rival gang leader, and Rash begins a journey of self-improvement and self-discovery in order to make a better life. Mo, meanwhile, attempts to fill the shoes of the big brother he idolizes while struggling with the realization that there is more to Rash than he knew. Great script and strong performances in a powerful drama.