Ken Marino Brings Austin His 'Burning Love'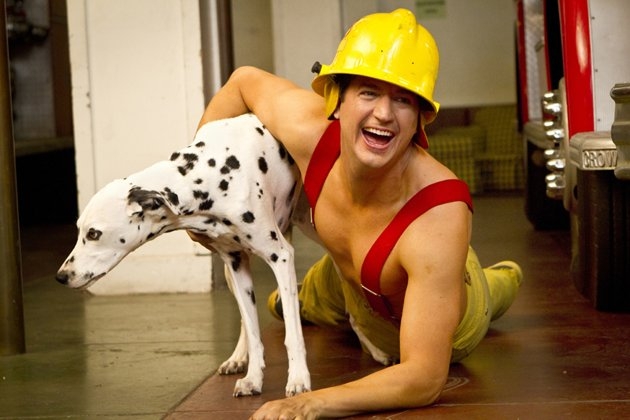 By Lara Morgan
Reality television has almost become a parody of itself. Utilizing the exact same editing style and transitions (set to indistinguishable, beat-driven music) and sensationalized dramatic situations, the genre is a redundant and perverse copy of life. No wonder, then, that aside from mockumentary-style shows (The Office, Parks and Recreation), no one has really touched reality TV. I mean, how can you cleverly mock the utterly mockable?
Well, the Yahoo! web series Burning Love, created by husband-and-wife duo Ken Marino (The State, Party Down) and Erica Oyama (Childrens Hospital) does just that, with blazingly hysterical results. Watching the series for my third time through at the Alamo Drafthouse this past Saturday, with Marino and Oyama present, Burning Love was more hilarious than ever.
The show follows Mark Orlando (Marino), a dimwitted firefighter who is looking for love, but isn't picky: trying to find "someone who can make [him] laugh, but isn't afraid of robots. Maybe somebody… ethnic?" In keeping with The Bachelor rules, Mark lives in a mansion with 16 women, getting to know them on group and one-on-one dates, faced with the impossible task of eliminating one or more girls in his weekly "hose ceremony."
Of course, Burning Love being a comedy, rather than having a harem of sane women throwing themselves at him -- well, as sane as someone seeking marriage from a television show can be -- Mark finds himself surrounded by the likes of a homeless woman (Malin Akerman), an 84-year-old grandmother (Helen Slayton-Hughes), a drunk who doesn't believe in pants OR panties (Natasha Leggero) and an "exotic" blonde named Ballerina (the always-funny Ken Jeong). As funny as Marino is as the shallow and clumsy bachelor, the series wouldn't work without the barrage of comedic bachelorettes who battle not only for Mark's love, but also for the most laughs.
Rather than make the show with a rigid production company or network, Marino employed Ben Stiller's company Red Hour Digital and took it to Yahoo! Comedy Channel, which picked it up and let him do what he wanted. Using the internet as the platform, Marino and Oyama said they got to have more creative freedom.
"One of the great things you get when you don't get paid any money to do something is you get to have creative control," Marino told the audience, which is apparent in the language and innuendo allowed throughout Burning Love. The medium also cuts down the timeframe of each episode to somewhere between seven and 12 minutes which, though it may seem like a constraint, allows for every moment to count in a bombardment of comedy.
Another perk to creating your own show, Oyama said, was getting to come to Austin on a regular basis. Marino then piped in saying that he'd been to Austin "17 times this year," which doesn't seem like too much of an overstatement, as I've had the privilege of seeing the actor three times in the past 12 months, and it never gets old.
"I f***ing LOVE Austin," Marino shouted with interjections of "It's the best city ever" from his wife. "Great food, great people, great movies and great micheladas!"
The duo also promised to return to the Drafthouse if Burning Love gets a second season or a network release. And you can bet I'll be there. Catch up on Burning Love via Yahoo.
Lara Morgan is an intern at the Austin Film Society.