AFS Pilot Program Teaches Students Game Design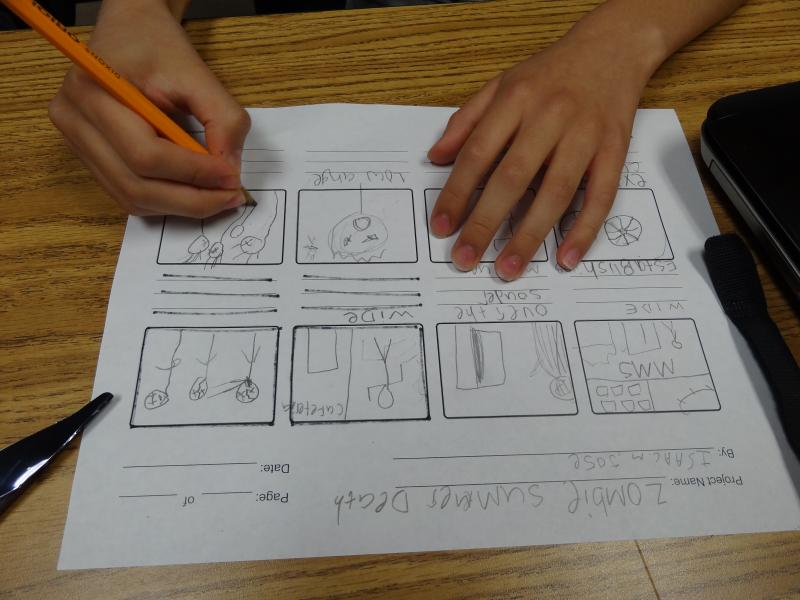 By Ayshea Khan
In March, Austin Film Society Community Education Manager Katy Daiger Dial explored the connections between filmmaker and game designer as a part of the AMD Game On! Workshop at SXSWedu 2012. In an age where movies and games are modeled after one another, where exactly do the two professions intersect? Can they work together to provide effective learning tools for our students?
Thanks to the support of the AMD Foundation's Changing the Game initiative and AISD's ACE Afterschool, AFS had the opportunity to explore these issues and find some answers with the Summer Digital Media Magic pilot program. This three-week summer workshop served as a continuation of June's AFS Film Club for Martin and Mendez middle-school students. A transmedia curriculum consisted of core game design concepts alongside filmmaking techniques. Digital Media Magic not only gave students a free and fun reason to get out of the house, but also continued Film Club's mission to cultivate creativity and skills necessary in a 21st-century workforce.
While learning the elements of game design, it was important to AFS that the program not stray from AFS's filmmaking roots altogether. As the AFS community education senior apprentice, I was put to the task of drafting filmmaking lesson plans that would support game design curriculum and vice versa. For example, what happens when you change the space of your video game? Is it similar to changing the location of your scene?
Coming from a film production background myself, I began to realize that game design offers great insight into developing a strong story just as much as it is a technical medium. Students could develop a narrative in their game and then carry that same narrative into an animated short film. This initial phase was definitely an exciting learning process, and I could not wait to see how it was going to all come together.

Armed with a fleet of laptops, editing software and cameras, AFS Film Club Mentors Sarah Gonzalez and Moeko Crider teamed up with Mendez teacher Lora-Jean Garza and Martin teacher Eric Sosa in the trenches to put these lessons to the test. The first week of the program focused on the elements of game design. Using the online game design program Gamestar Mechanic, kids rapidly completed lessons and were already on the road to video game creation. Throughout the week, small filmmaking exercises such as photo stories and flipbooks were used as supplemental components.
Once the students' games were on their way, the focus of the second week shifted to filmmaking. The students created trailers for the games they designed. They were not only working creatively and developing crucial STEM skills -- they didn't want to leave at the end of the day. It was apparent that they were excited about what they were creating and wanted to share the knowledge they were learning with their peers.

The third week consisted of finishing up projects and getting everything ready for the 2012 Digital Media Magic Summer Showcase. This is where it all came together. Set up in science-fair style, you could truly see the two worlds come together. Sets for animation projects were displayed along game design documents while photo story posters hung behind board games. You could play a student's game and then watch the movie adaptation.
All of the kids were articulate and proud of their games, with terms such as "frag counter" and "goal block" now a part of their vocabulary. I got to play the zombie-themed videogame "Surviving New York City," and didn't survive very long. Since my skills apparently weren't up to par, the young game designer jumped in to give me some tips on killing the undead. Their positive energy was contagious, and I carried it with me long after the showcase had ended.

The summer workshop may have come to a close, but the Digital Media Magic is still with the Austin Film Society. The next step in the initiative is to bring the lessons learned during the summer into classrooms this fall. Lora-Jean and Eric will have access to the software and equipment in their classrooms so they can utilize digital media as a teaching tool. Furthermore, Martin and Mendez film clubs will also have the opportunity to explore the world of game design, allowing students to continue their digital media education beyond the classroom. While it is a program that is continuing to evolve, I am very happy to be one of the filmmakers that traveled into gameland this summer.
You can view clips and projects made by AFS Summer Camp and Film Club participants via the AFS YouTube account.
Ayshea Khan is a senior community education apprentice at the Austin Film Society.