'Now, Forager' Brings Food and Film to the Butterfly Bar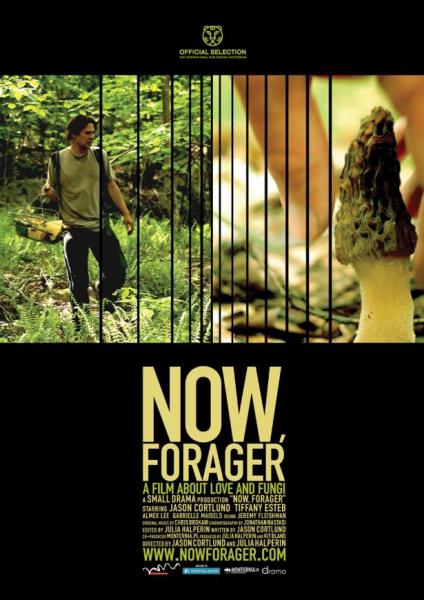 By Olivia Calderon-Stucky
It was an unsurprisingly hot summer night at Butterfly Bar last Monday evening, but neither the heat nor the mosquitoes could diminish the pleasant ambience of the Austin Film Society's "Meet the Filmmakers" event, featuring excerpts from the movie Now, Forager. With proceeds benefiting the Texas Filmmakers Production Fund, the never-before-offered event had 40 or so people mingling in the backyard-like setting and indulging in two of the greatest things on Earth: food and film.
Six dinner tables were prepared for a family-style meal of locally sourced food from Farmhouse Delivery. The menu was lovingly prepared by chef Sonya Coté, executive chef of Hillside Farmacy, and included a feast for the eyes as well as the palate.
Dishes inspired by selected film clips began with hen yolks in mushrooms basted with shallot butter and herb. After this intoxicating appetizer, diners moved onto a wild cornbread soufflé, followed by a cold and sour soup with summer greens and sliced egg white. The pièce de résistance came just as dusk emerged: fresh redfish, the entirety of the fish grilled to perfection and served on a bed of smashed potatoes.
Diners settled even further into their seats to watch selected clips from Jason Cortlund and Julia Halperin's Now, Forager, a narrative ode to food and fungi. Now, Forager follows main characters Lucien and Regina, who make a living gathering wild mushrooms and selling them to New York restaurants. Their marriage as well as their unstable but simple lifestyle is threatened after Regina seeks stability in a restaurant job, while Lucien devotes himself wholeheartedly to nomadic foraging.
Selections ranged from luminous and poetic sequences of the main characters foraging in the woods, to a birds-eye view of the artistry involved in catching and flaying a fish. Audiences saw close-up shots of white mushrooms while accompanied by voice-over of Lucien saying their esoteric scientific names. We saw the quiet tension between the couple after Regina takes a daytime job, throwing the order of their uncomplicated universe into disarray.
The film is minimalist, simple — a love letter to the kind of small-scale sustainability that seems very hip with the foraging and local food going community. AFS's Austin Culp was on hand to ask keen questions of the filmmakers giving us all insight into the movie and its production. We learned why the filmmaking duo decided to choose this subject. They wanted to pay actual tribute to the food in a food film, versus using fake food or not really focusing on the food and cooking.
"I felt that there was room for the more experiential in the food movie genre," Halperin explained.
The filmmakers also saw parallels between the behind the scenes worlds of cooking and filmmaking — fast paced, long hours on your feet, and working for passion, not money. Jason and Julia know both worlds intimately: Both worked in restaurant jobs, and Jason, who grew up mostly in Oregon, experienced first-hand the seasonally based foraging subculture.
"This is more pleasurable than playing Dungeons & Dragons, no offense," Cortlund chuckled.
Julia agreed and explained that people are interested in where food comes from. The film is also about love and marriage, and just as they were dissatisfied with many food movies, Jason and Julia wanted to make a movie about relationships that they would not cringe at. The film takes place over the course of a year where life as well as relationships, seasons and foods change. What will never change, though, is the enduring comfort of good food, good people, and good film. Now, Forager is a film that highlights meals made memorable by community, involvement, and passion.
AFS's Meet the Filmmakers event with Now, Forager further cemented these qualities and highlighted AFS's perpetual mission to support film, lovers of film and makers of film. The added benefit of a family meal with scintillating and unusual food mixed with salon-style conversation was just like the dessert of the night, spongy mushroom beignets with honey, a satisfyingly sweet way to start off the week.
Now, Forager has been screening at film festivals this year from the Berlinale to New York's New Directors/New Films, and will screen at the Durban International Film Festival in South Africa next month. Keep an eye on the film's website for info on upcoming screenings.

Olivia Calderon-Stucky is an intern at the Austin Film Society.