Jump on the Catbus and Head to Alamo's Studio Ghibli Series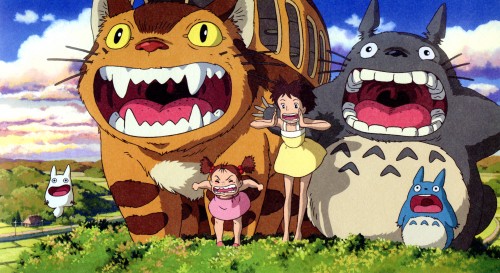 February brings us a new film from Japan's Studio Ghibli, internationally known for its animated movies. The Secret World of Arrietty will open in Austin on Feb. 17. But that's not the only treat for Ghibli fans in Austin. Alamo Drafthouse South Lamar will host a Studio Ghibli Retrospective starting later this week and running through early May (with a break for SXSW). The series features new 35mm prints of nine animated films, all subtitled, seven of which are directed by Studio Ghibli founder Hayao Miyazaki. Each movie will screen once a night for a week-long period.
Here's a list of the films being screened and dates:
Spirited Away (2001), Feb. 10-16 [tickets/info] -- The Academy Award winner for Best Animated Film follows a young girl in her adventure in a spirit world populated by masked wraiths, a witch with a huge head, a big baby and more.
Castle in the Sky (1986), Feb. 17-23 [tickets/info] -- I haven't seen this one, but it seems this movie tells the story of a flying city named Laputa, a boy and a girl searching for it, and involves a glowing crystal and sky pirates.
My Neighbor Totoro (1988), Feb. 24-March 1 [tickets/info] -- My favorite Miyazaki film, this sweet movie tells the tale of two young sisters who move with their father into the country to be near the hospital where their mother is receiving care. They meet forest spirit Totoro and ride on a catbus (!!!).
Nausicaa of the Valley of the Wind (1984), March 2-8 [tickets/info] -- This animated film depicts a post-apocalyptic future. Nausicaa is a princess determined to keep the peace between two warring kingdoms. The movie was made before the founding of Studio Ghibli in 1985, but is still included among the studio's works since its success spurred the start of the studio.
Kiki's Delivery Service (1989), March 30 - April 5 -- After a break for SXSW, this film restarts the series. Kiki's an adolescent witch who has to live on her own for a year, starts a courier business, and doubts her witching abilities.
Porco Rosso (1992), April 6-12 -- An Italian former WWI pilot has been cursed and turned into a pig. He's currently working as a sort of bounty hunter, going after air pirates.
Only Yesterday (1991), April 13-19 -- One of the two movies on the list not directed by Hayao Miyazaki, this film will be making its Texas premiere as part of this series. Director Isao Takahata co-founded Studio Ghibli with Miyazaki. Takahata's 1991 film depicts a twenty-something woman traveling to spend time with family and dredging up childhood memories along the way.
The Cat Returns (2002), April 20-26 -- Hiroyuki Morita's sole film directing credit (so far). A teenage girl somehow gets herself engaged to the Prince of the Cat Kingdom.
Princess Mononoke (1997), April 27 - May 3 -- Industry versus nature is a major conflict in this tale of a young man who seeks help from a forest spirit and meets up with a woman who has been raised by wolves. This last film of the retrospective, which played Austin Film Festival in 1999, is one of Studio Ghibli's best-loved movies.
Keep an eye on the Alamo Drafthouse calendar for ticket and screening time information as dates get closer.