Austin Polish Film Festival This Weekend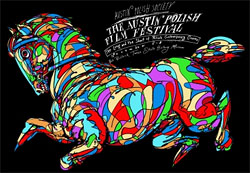 If it's a weekend in the fall, that must mean there's a film festival going on in Austin. This weekend, we have the Austin Polish Film Festival, which runs from Thursday, November 5 through Sunday, Nov. 8. Sponsored by the Austin Polish Society, the movies and festivities will take place at the Texas Spirit Theater in the Bob Bullock Texas History Museum.
The opening-night film this year will be God's Little Village (U Pana Boga za miedza), a 2009 comedy from writer/director Jacek Bromski. This is the third movie in a series of comedies she's made that focus on a small Polish town, Krolowy Most. Bromski will attend the screening, along with composer Ludek Drizhal and actress Agnieszka Kotlarska.
You can buy tickets for individual films or for the whole Austin Polish Film Festival online through the fest website. You also can buy the fest posters, which as you can see on the right, are very striking and lovely.
In addition to the regular festival, the Austin Polish Society will show a number of short films, documentaries and animated films on Saturday, Nov. 14 from 1-4 pm at Studio 4-D in Communications Building B on the University of Texas campus. Admission for the Nov. 14 movies is free.