Don't just watch a movie at The Arbor ... be in one!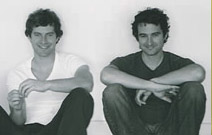 I was reading a blog entry by Bryan Poyser (aka the Dear Pillow and The Cassidy Kids guy) the other day in which he mentioned helping John Bryant (aka the Oh My God and Momma's Boy guy) and Jay and Mark Duplass (aka the Puffy Chair guys) with the Duplass brothers' film Baghead, which is shooting around Central Texas. I've met all these filmmakers at least once (Nueva Onda screened Bryant's shorts a couple of months ago), and the idea of all three of them working together was intriguing. I wondered if I could find some way to sneak onto the set and, I don't know, take covert photos or hide in a corner and observe.
Now it looks like I could have my chance ... and you can too! The Duplass brothers need volunteer extras for a scene they are shooting this Sunday, Oct. 29, at the Arbor theater. Get there by noon and dress casually, and don't wear anything with a corporate logo on it. The shoot should end around 4:30 pm. You can watch these crazy filmmaking dudes in action, and you'll get the warm fuzzy feeling from helping local filmmaking. Who knows, if I get all my AFF reviews done, maybe I'll be there too. I can't resist helping out fellow New Orleans expatriates.
If you do want to work as an extra on Sunday, be sure to RSVP to the filmmakers via email: bagheadthemovieATyahooDOTcom.
Speaking of which, The Puffy Chair is now available on DVD through Netflix. I wasn't very taken with it the first time I saw it, but I liked the movie a whole lot the second time. I wrote about three-quarters of a review after seeing it the second time, and someday I'll pull that review off my laptop and post it. I promise. (Never try to review a movie the week before your wedding.)