Quick Snaps Redux: Olson and Ellison at SXSW 2008, Not Reading Scripts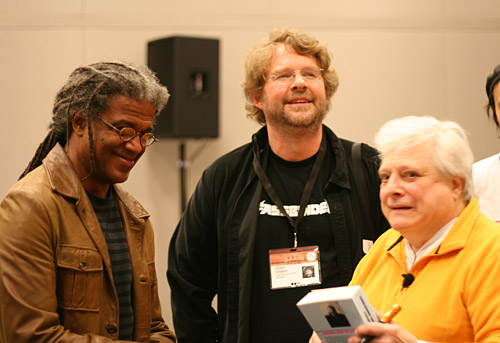 I posted this photo last year, but it's especially timely this week, so I thought I'd give it a good airing. I took the photo right after author Harlan Ellison's panel at SXSW 2008. When I last posted it, I focused on Ellison (right) signing a book for critic Elvis Mitchell (left). I didn't say much about the guy in the middle.
However, a lot of people are talking this week about that guy in the Fassbinder shirt, screenwriter Josh Olson, and not because he wrote the script for A History of Violence. Olson wrote an article for the Village Voice called "I Will Not Read Your Fucking Script" that is drawing numerous champions and detractors. Response articles include an even stronger assertion from screenwriter David Gerrold ("The Trouble with Tribbles" episode of Star Trek); a thoughtful explanation about why writers won't serve as mentors, from author/blogger John Scalzi; and on the local front, a Film School Rejects column from Austin's own Cole Abaius explaining why he thinks Olson is being an asshole.
And now Ellison has stepped into the fray in a whimsically ascerbic fashion, and has recorded a Seussian rhymed version of Olson's essay for your listening pleasure. The rhyming version was adapted by Steve Jarrett, and Olson liked it so much he asked Ellison to perform a dramatic reading. Therefore, I have another excuse to post this photo. If the photo looks familiar, I also let Jen Yamato use it for her Cinematical article about the whole Olson kerfuffle, which you also might enjoy reading.