Review: For a Good Time, Call...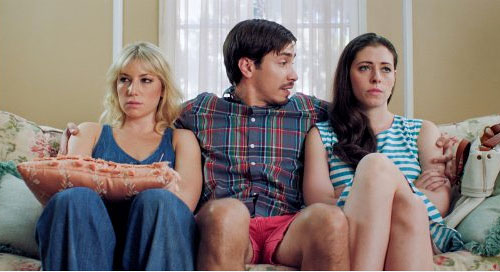 In what could very well be the best romantic comedy of 2012, For a Good Time, Call... turns the notion of the rom-com on its head. And the movie doesn't do it in a way that has to majorly push the envelope with an overly sexual (or homosexual) agenda. It does it from the way the best relationships begin, with friendship.
Co-writer/actress Lauren Miller and her co-star Ari Graynor anchor this ultra-charming film about how a beautiful friendship can develop despite a few differences when a thriving business is involved. It also proves that nothing can bring two women together like phone sex. Lots and lots of dirty phone sex.
Lauren (Miller) is one half of a boring couple. They lead boring lives, have boring friends, and have boring sex. When her boyfriend takes off to work for the summer in Italy, it seems the perfect time to take a break, which comes as a shock to Lauren. With the help of her gay best friend Jesse (Justin Long), she finds a place to live that is perfect ... except for the current tenant, a wild partier whom Lauren has met before, Katie (Graynor). Lauren's held a grudge for 10 years, and isn't looking forward to living here, until she discovers Katie is a phone-sex operator. Desperate for money and having just lost her job, she helps Katie set up her own business for a much bigger profit.
The two leads carry For a Good Time, Call... entirely, and the movie's success hinges on their performance and chemistry as friends. It's all played to perfection, despite the familiar beats of a standard romantic comedy. Even the stereotypical sassy-gay-best-friend is done pretty well and never over the top. Never being over the top is the biggest strength of For a Good Time, Call... As the relationship between Katie and Lauren goes through its ups and downs, it all feels very natural and organic. The only time it's over the top is when it needs to be, and that is during the phone sex talk. The language here is most definitely not for the overly sensitive, but it's all smart and delivered with razor-sharp wit.
Speaking of razor-sharp wit, Graynor continues to impress as she stars in more and more movies. Some may recognize her from Nick and Norah's Infinite Playlist, an astoundingly clever and great romantic comedy in which she plays the drunken damsel in distress more hilariously than it's ever been played. Here, she's challenged like she's never really been before and this is the first time she's been cast as a lead in a film. It's safe to say that she's destined to be a huge star.
Lauren Miller is a face that isn't too recognizable by too many people, but as a character who goes through some pretty big personality changes, she manages to match Graynor's performance beat for hilarious beat.
For a Good Time, Call... may not seem like a traditional romantic comedy, but there's no rule saying a film can't be based on a relationship that spawns true platonic love between two characters, even if it is between two women. Whatever term you can come up with to be the opposite of "bro-mance" would be a term that describes this movie perfectly. It's simply a great film, full of tremendous laughs, and it will hopefully serve to make Ari Graynor's star bigger.