'Searching for Sonny' Tour Hits Austin Next Week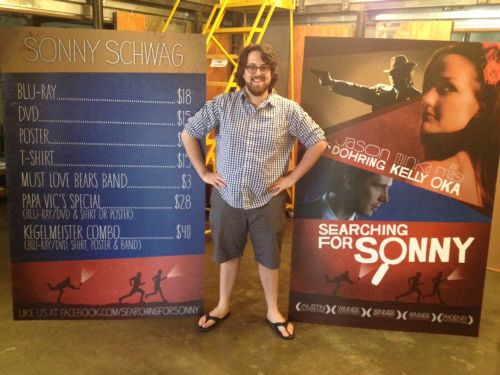 The Texas-produced feature film Searching For Sonny is on tour around Texas this month as part of the Texas Independent Film Network's Fall 2012 program. It returns to Austin after having its world premiere at Austin Film Festival 2011. After winning 13 major awards on the festival circuit -- including the Best of Fest at the Hill Country Film Festival -- writer/director Andrew Disney (pictured above) will be at the screening when the roadshow lands in Austin next week.
You can buy tickets now to see the Fort Worth-shot movie at the Violet Crown Cinema on Tuesday, August 21 at 7:30 pm. I saw it at AFF and my review describes it as "kinky and subversive, dark and outrageous." Here's my synopsis from that review:
"Jason Dohring stars as Elliot Knight, an unsuccessful 28-year-old pizza delivery driver. Jason receives a surprise invitation to his 10-year class reunion from his estranged best friend, Sonny (Masi Oka). As soon as he arrives at the reunion, he meets up with twin brother Calvin (Nick Kocher) and classmate Gary (Brian McElhaney). Together, the three of them set out to find Sonny, following clues left on their postcard invitations, and uncover a larger scheme involving their former high-school principal."
If you miss Searching for Sonny next week, don't worry. The movie landed a distribution deal with FilmBuff and Red Productions this month, and will be available on DVD and Blu-ray and via VOD (including iTunes) starting August 28.
Slackerwood has an exclusive clip from the film: