Get Tickets to 'Ai Weiwei: Never Sorry' Sneak Preview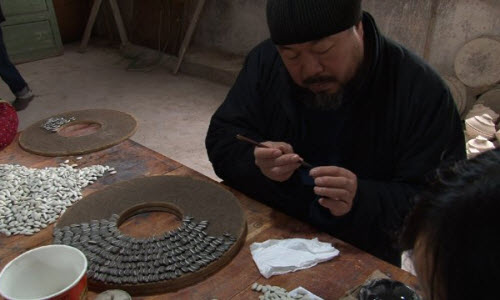 Slackerwood is giving you the chance to see the documentary Ai Weiwei: Never Sorry next week, before it opens in theaters ... and at no cost. The preview will take place on Tuesday, August 7, at 7:30 pm at Violet Crown. I have 25 admit-two "e-tickets" to give away -- details on how to do it are after the jump.
An important note about the e-tickets: This is a first-come, first-served pass and seating is not guaranteed. Remember, this is Violet Crown and the theaters are not exactly huge. If you've been to preview screenings, you know that usually more tickets are given out than there are seats, so you'll want to arrive early to stake out a good spot in line. Fortunately Violet Crown has drinks and snacks (you know what's good? the Ginger Pork Tapa), so hopefully the wait won't be too uncomfortable.
Elizabeth will be reviewing Ai Weiwei: Never Sorry for Slackerwood and says, "Alison Klayman's powerful documentary about artist/activist Ai Weiwei follows him through success and times of trial, humanizing this figure who continuously challenges Chinese authority in small ways and large." She also told me something amusing about a cat but I'll let you discover that for yourselves. The movie opens in Austin on Friday, August 10.
Here's what you have to do to get a pass: Use the Slackerwood contact form to send me a message with your name and email address. I'll email you back with the pass, which is a PDF that you should print and bring to the screening.
Yes, I should be running some kind of fancy-pants contest where I ask you to comment or post something to Twitter or like us on Facebook, and it would be great if you did one or all of those things! (Yes, that's a hint.) But this time I'm making it easy. Just drop me a line -- the first 25 requestors get a pass. Enjoy the movie, and maybe when Elizabeth posts her review closer to the release date, you can start a discussion about it in the comments thread. (Yes, that's another hint.)