Interview: Vera Mijojlic of SEEFest, Part Two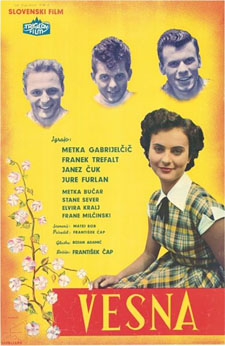 Vera Mijojlic recently concluded the 7th annual SEEFest Los Angeles (Southeast European Film Festival), which she created and continues to direct. It is rightly called "the premiere cinematic showcase where films from 15 countries of South-East Europe are presented as an annual thematic snapshot of that turbulent region."
She also curated Austin Film Society's SEEFest Austin this spring, which includes seven films that have played at different times in SEEFest Los Angeles. Vera will be in Austin tonight (May 22) to present the Slovenian film Vesna (Frantisek Cáp, 1953) at Alamo Drafthouse on South Lamar.
I visited with Vera in August 2010 in Los Angeles, and recently asked her some questions via email. This is the second part of our interview -- read the first part if you haven't already.
Chale Nafus: Among all your film and cultural writing, I understand that you have also written short stories and children's plays.
Vera Mijojlic: My stories were about kids in complex situations. The one that got the most awards and ended up in a book was "Albertino," about a Jewish boy in a small Bosnian town whose friends are Serbian and Muslim kids, a perfectly natural thing in a place like Bosnia. Enter the Nazis and WWII. The world of these three kids changes, with Albertino disappearing and his surviving friends growing up really fast. I wrote it as a poetic first-person account told by a little girl who survives the war.
Other stories were about the tempest mirroring the internal turmoil of a teenager, and one was a semi-enigmatic story about a mirror and the person who breaks it after a silent interaction with her own image. I also wrote poetry and published some, but it never amounted to much.
My plays were like children's Christmas specials, written originally for a youth theater and later picked up by a repertory theater in Belgrade. It was a series under the title of Santa's Grandson. In the second installment I was already writing pure comedy, and that's when the actors in the repertory theater took it up and had a ball goofing around.
Where were you when Yugoslavia began breaking up and wars of independence flared up in Croatia, Slovenia and Bosnia in the 1990s?
Mijojlic: I was still living in Yugoslavia, in Belgrade, when the war in Bosnia broke out (Spring 1992). But the war was already raging on in Croatia, and prior to that there was a 10-day war in Slovenia when that republic seceded from Yugoslavia. All that time I was on the streets in Belgrade protesting. When progressive people established the Center for Anti-War Action, that became my home.
We were a small group, unfortunately. We were a drop in a nationalist ocean. My father had died in 1987, and he would have probably died of a broken heart had he lived to see the country go to the (nationalist) dogs. My family was devastated by the war [of the 1990s]. My cousin from Sarajevo fled to Sweden with her two children, leaving her husband and father behind (they later joined her). My father's sister left Sarajevo and moved to Belgrade. My parents-in-law were stranded in a part of Sarajevo occupied by the Serb nationalist forces. I still remember the voice of my gentle mother-in-law speaking on the phone (while lines were still working), filled with fear and desperation, as the sound of shelling could be heard in the background. I never saw her again. She died after the war.
My friends were almost all in the anti-war movement. Not that we made much of a difference, but I surely got my share of tear gas and water cannons.
In June of 1992 I finally decided to leave, because I didn't want my two boys to grow up in the madness. They were 2 and 3 1/2 years old at the time. My sister lived in Los Angeles so that's where I went. It took me two years to come to terms with my exile. I functioned, but I was like a zombie. [However] with my boys starting preschool and learning to adapt to a new place, I was never idle, which is a good thing. The boys were the center of my universe and they anchored me. Making a warm home for them and their friends I made one for myself too.
Almost immediately I got a job working for a small ad agency. Strange, but it just happened. I was at a café with friends when an ad guy started asking me about what I did, and suddenly asked if I would come work for him. He was about to pitch an account, and I said I'd write a little memo proposing a few things. We agreed to meet again after Labor Day. I showed up with my "memo," which I boldly called "Strategy," we went into the meeting, got the account, and from then on for the next five years on-and-off I ran with it.
At about the same time you also became involved with the California Youth Theatre. Tell us about that experience.
Mijojlic: It was an anti-violence campaign, following the L.A. riots [1992]. For me, it was anti-violence in general, as I had just come from a very violent place. Through a friend I was introduced to Jack Nakano, the artistic director and founder of the California Youth Theatre. Before I knew it, he recruited me to run the project for him.
I pulled my old New York connections in the U.N. to get them on board, then UNESCO, and by then we had a team working with art teachers in LAUSD on a contest for the best design for a t-shirt. We got Jockey to donate the shirts, we got art supplies, and ended up with hundreds of entries that we hung on a clothes line in the Paramount Studio parking lot, to the amazement of everyone there. I doubt we could do that today. We also built a stage and produced a one-hour musical. Michael York was the celebrity spokesperson and honorary chair.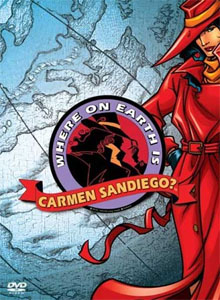 You also worked as Publicity Manager at DIC Entertainment, which produced the award-winning children's TV program Where On Earth is Carmen Sandiego (1994-1998) and then worked in the creative department of DKK Advertising, which handled the account for the Japanese fast-food chain Yoshinoya. Besides this Mad Men experience, you somehow found time to help with refugee issues in America.
Mijojlic: It may have been a guilt trip. They say that those who leave feel guilty for not staying to fight. IRC is the world's largest refugee organization, headquartered in New York. During my five-year tenure at the L.A. office I ran a federal program to assist refugees and torture victims and created a whole lot during those five years. We created the first West Coast Advisory Board, produced a professional newsletter, established a network of agencies working in the same field, organized benefit concerts, raised additional funds to pay for child care so single mothers could finish school, etc.
It was a mammoth effort. There were sometimes very vulnerable people in my program, and I would worry to no end where they were and what they were doing. Some suffered from bipolar disorders because of the torture and would not take medicine, or would simply walk out of the shelter into the night. As my five-year anniversary was approaching, and my boys were a bit older, it was time to no longer keep my life on hold and start getting back to movies.
So you created SEEFest, the South-Eastern European Film Festival. Tell us about that process of establishing a festival that didn't exist in Los Angeles.
Mijojlic: I founded SEEFest as a project on October 23, 2002 by inviting a group of artist friends to a dinner where I read a short manifesto which we all signed. It was a symbolic beginning. By 2004 I had put together the very first full program, and in 2006 SEEFest was incorporated and became a non-profit, 501-C3 organization.
My vision was to create something that would tell a story about this interesting and complicated region of the world, making it more accessible to American audiences through well selected films. Funding is always a problem, especially since we cannot get the type of support from individual countries that their national festivals do. But programming is also a big task, at least the way we do it. We look for films that fit into our vision, and have to go through a lot of movies to get a rounded, balanced program. We are still largely a volunteer driven organization, and that is not making things easier.

You have some very important supporters for the festival: Goethe-Institute, UCLA Center for European and Eurasian Studies, California Arts Council, Trust for Mutual Understanding, ELMA European Languages and Movies in America, Los Angeles County Arts Commission, consulates general of Romania, Croatia, Bulgaria, Austria, Hungary, Greece, and Turkey in Los Angeles, and a host of community-based organizations from all ethnic groups represented in festival programming. I have read that you received a grant this year from the Academy of Motion Picture Arts and Sciences.
Mijojlic: The Academy gives grants to film festivals in the U.S. and this year we got it! The grants are given for "proposals that make festival events more accessible to the general public, provide greater access to minority and less visible filmmakers, and help strengthen the connection between the filmmaker and the public."
How do you find and select films for SEEFest?
Mijojlic: The main festival I visit whenever I can is Sarajevo Festival in July/August. SEEFest is modeled after Sarajevo. We have very similar goals with regional cinema, a similar programming orientation. But research is the key. I stay on top of the news as much as I can. I subscribe to (or visit regularly) a number of sites, including:
I also visit websites for film festivals such as Karlovy Vary, GoEast, Thessaloniki, Rotterdam, Cluj, Sofia, Antalya and others. I read local papers online, follow films in productions, and basically spend my life online.
Finally, how do you feel about curating a small SEEFest Austin?
Mijojlic: I feel wonderful about SEEFest Austin! It is a great reward for my efforts and efforts of my colleagues and supporters. It is like getting an award. Austin has become a Mecca for cinephiles, and to have SEEFest travel to Austin is a dream. I am excited and happy to be showing our films in a city that by all accounts is a place for film lovers. What more can one wish for?