The Intern's Lot: Ziggy Stardust and The Spiders From Mars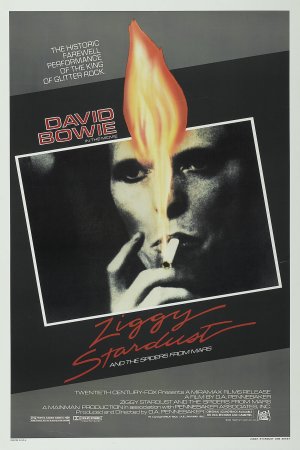 By David Chisholm
If you've never heard of it, Ziggy Stardust and the Spiders from Mars is a 1973 concert documentary directed by D. A. Pennebaker, detailing David Bowie's very last performance in the role of Ziggy Stardust, his extraterrestrial alter ego. A little over a week ago, I had the enjoyable experience of seeing Ziggy Stardust and the Spiders from Mars at Austin's own Jo's Hot Coffee as part of the Austin Film Festival "Living Record" series.
The first time I ever saw David Bowie, he was spandex-clad, singing with puppeteered goblins and trying to steal a baby in Labyrinth. Now, as an adult, I have a slightly fuller view of the man. I appreciate the influence he had on Iggy Pop, and I love his acting choices over the years. I truly enjoy almost every period in his musical career (and there have been a lot), but my absolute favorite part of David Bowie and his creative genius is the Ziggy Stardust period. These are my most beloved albums, and this is his most fascinating character.
So, how had I never seen the singular performance from that period caught on video -- especially when it had been captured by the genius of D. A. Pennebaker? I truly don't know. I can be very lazy, and I'm guessing that had something to do with it. Thankfully, Austin Film Festival is here to provide me and anyone else who enjoys free movies the opportunity to correct that mistake.
Arriving just as the colorful credits began running across the projection screen on the back wall of Jo's, I whispered my food order to my wife and left her to snatch up the only remaining table, and began to enjoy the film I had been meaning to see for years.
Opening with backstage footage showing Bowie donning the first of the five elaborate costumes he would wear throughout the evening, and then smoothly moving into a rollicking performance of "Hang On to Yourself," Pennebaker seems to have easily captured the spirit of this phase of Bowie's career. Originally intending to only film a handful of songs, the director was inspired to shoot an entire film after seeing the first of two nights on the tour. What he ended up capturing with that quick decision is a brief glimpse at one of the most important moments in rock 'n roll history.
After I sat down, I was worried that this was not the best environment to see Ziggy Stardust and the Spiders from Mars in for the first time. It was a little too bright, a little too loud, and a little too crowded. But those complaints were quickly forgotten as I began to enjoy the concert experience with the people around me. There was the middle-aged woman by herself at the bar, watching the film longingly, and clearly remembering a love affair she used to have with Ziggy Stardust, possibly real and possibly imagined. At the table behind her was a young family -- the parents were children who had grown up listening to this music and were now sharing it with their own. Two tables behind me was a group of young college girls quietly singing along to all of the words, and cheering almost in solidarity with the young female fans in the movie.

At the end of the night, I felt confident that this had been the perfect way to see this film for the first time. It won't be the last time I watch it, and it won't be the last time I go see a free movie at Jo's Coffee either. AFF will end its free series of Pennebaker's music documentaries at Jo's on May 2 with Only the Strong Survive.
David Chisholm is an Intern at the Austin Film Society.