SXSW 2012: Shorts Preview, Part Two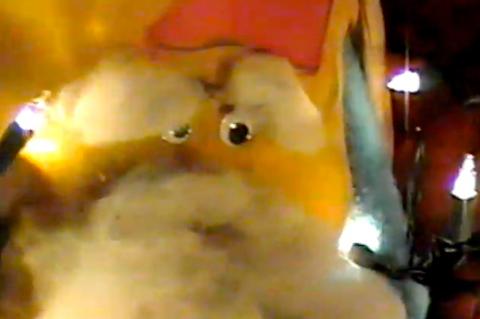 This second part of my SXSW shorts coverage takes a marked musical turn, including a number of music videos, a short with no dialogue, and an adaptation starring Luther Campbell of 2 Live Crew. In case you missed it, you can go back and read Part One.
Christeene: African Mayonnaise (Music Videos)
If you're not familiar with Christeene Vale, this latest music video from the outrageous Texan drag queen is a great introduction. Performing first in the mall, she is chased out by a mall cop on a Segway and then moves on to other recognizable Austin locations. This is the most in-your-face drag queen you're likely to find, and I only hope I'm fortunate enough to witness a live performance at some point. Directed by Austin filmmaker and cinematographer PJ Raval.
Knife (Texas Shorts)
Rich, immersive sound mixing is integral to this short, which tells a story without the use of dialogue. An unsettling tone is enhanced with a beautiful original score. Written and directed by Fort Worth filmmaker James M. Johnston. Edited by DFW-area filmmaker David Lowery, whose SXSW 2011 short Pioneer was produced by Johnston.
The Hunter (Animated Shorts)
Somber and thoughtful tale of a boy who runs with wolves, narrated by a hunter (whose voice is coincidentally very reminiscent of Liam Neeson) who's tasked with ridding the town of them. Brings to mind the W.B. Yeats poem The Stolen Child. Written and directed by Marieka Walsh.
Chocolate Milk (Animated Shorts)
Animated exploration of a teenager's journey into and out of rehab, how friends influence her, and her quest to follow the rules so she can be rewarded with chocolate milk. Narrated as a stream of consiousness, it is at first cute, then a little difficult to see where it's going and finally resolves into a clear picture. Although the film was shot in California, it's set in Texas -- filmmaker Eliza Kinkz is a fifth-generation Texan who took her first animation class at Austin Community College. Voice actress Kat Lam and composer Eric "Fishboy Michener" are both from Dallas.
Machines of the Working Class (Midnight Shorts)
Worldwide disaster is narrowly averted thanks to the basic nature of robots, proving that Asimov's three laws are actually unnecessary in this cute animated short by James and Robert Dastoli.
I Am Your Grandma (Midnight Shorts)
This message to an unborn grandchild is a short catchy music video featuring the "grandma" in various wildly creative costumes and disturbing latex masks worthy of Lady Gaga. I believe I saw this during aGLIFF last year. Catchy, and bears repeat viewing. Written, directed, and starring Jillian Mayer.
Jacuzzi Boys: "Gl@zin" (Midnight Shorts)
I've walked out on very few films. This one (pictured at top) has the distinction of being the first short I refused to finish. A music video set to the Jacuzzi Boys song, it was produced by a group of six female fans of the group, each of whom has painted up her crotch with a different character so that her ... lips are the lips of the character, and then oh-so-cleverly animated through the use of thread or fishing line. It didn't help that the music in question is not my cup o' tea. Directed by Lucas Leyva and Jillian Mayer.
Life and Freaky Times of Uncle Luke (Narrative Shorts)
Modern adaptation of the 1962 French short La Jetee set in Miami. Absolutely brilliant execution with a very unusual and captivating mix of live actors and life-size cardboard cutouts. If there is a single short I would recommend watching, it is this. Another entry from directors Jillian Mayer and Lucas Leyva. Check out the trailer below.