Movies This Week: The Holiday Edition
­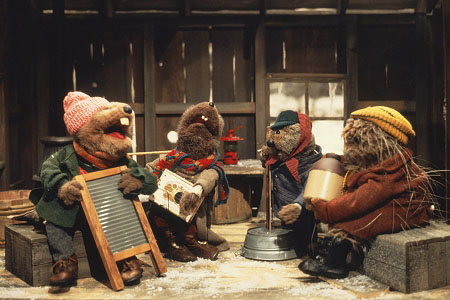 Maybe your idea of a fun Christmas week doesn't include a lot of family gatherings, tree-trimming, or waiting in line to see the lights at Zilker. Maybe you'd rather be at the movies. If so, you've got some interesting choices for next week:
Tons of new movies opening in Austin this week: I've seen Juno, Charlie Wilson's War, Sweeney Todd, and The Orphanage (Alamo South). Cinematical published my review of Swe­eney Todd if you're interested. If those movies don't appeal, you also can see Walk Hard, The Great Debaters, The Savages (Arbor), National Treasure: Book of Secrets, and Alien vs. Predator: Requiem.
Over at the IMAX theater at Bob Bullock, Christmas is busting out all over. You can see the 3-D version of The Polar Express all week long, or a half-hour 3D animated film called Santa vs. the Snowman.
Recommended: On Saturday morning, head over to Alamo South for this month's free Kids Club screening at noon: the original, uncut version of Emmet Otter's Jug Band Christmas. I may be there, although I feel weird not going with a child or even a friend who has a strong inner child.
Galaxy Highland is showing a digital-video recording of the San Francisco Ballet production of The Nutcracker, Saturday through Monday.
Recommended: We've already bought tickets for our Christmas Eve festivities: We're going to Alamo Ritz to see Harold and Kumar Go to White Castle, during which Alamo will be serving "mini-burgers" (aka sliders, I assume). I think this is going to be a fine way to celebrate the holidays. Join us!
Or if you actually have Christmas-related plans on Dec. 24, you can see Harold and Kumar another night as part of Alamo's annual "High for the Holidays" festival going on all week. If you've never seen Head in a theater (and a 35mm print), here's your chance. The mini-fest also includes Dark Side of the Rainbow (Wizard of Oz with Pink Floyd), the profanity-free version of Friday, Beerfest, and a sing-along with the musical version of Reefer Madness.
If you want a traditional Christmas dinner with your movie theater experience, all three original Alamo theaters are serving turkey with all the trimmings at select screenings on Christmas Day. (But when are they going to start serving Chinese food with movies on Dec. 25? That's a whole other tradition they could take advantage of.)
I don't usually get to attend the Weird Wednesday movies at Alamo Ritz because they're at midnight and I have to go to work early the next day. But not next week ... and it looks like WW has a pretty fun movie lined up: Drunken Wu Tang. It may be worth staying up for.
Finally, here's a preview for post-New Year's movie viewing, in case I don't write up another Movies This Week by then. The Paramount is bringing back Blade Runner: The Final Cut, which will screen from Jan. 2-6. Should be a nice alternative to bowl games.
­