Ryan Long's blog
By Ryan Long on December 20, 2012 - 11:00am
in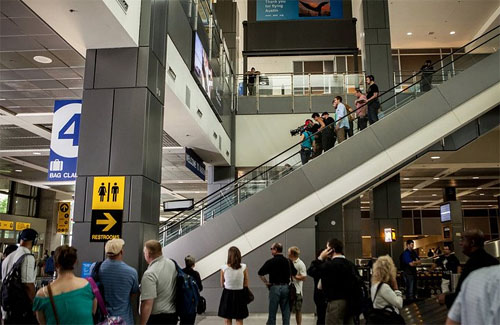 Welcome to Texas Production Dispatch, a new monthly(ish) column from Ryan Long with updates about various film and TV productions in the Lone Star State, particularly Austin.
What do Nicolas Cage, Jessica Alba, Robert Duvall, Paul Giamatti, Paul Rudd, Christian Bale, Cate Blanchett, Natalie Portman, Ryan Gosling and Michael Fassbender all have in common? They all were (or soon will be) shooting films in Texas. The last few months have seen a flurry of activity, with numerous television shows and feature films shooting across the state, with more great projects on the horizon.

Feature films have been in full swing with some iconic Texas filmmakers shooting their latest movies on their home turf.
The suddenly prolific Terrence Malick has assembled an all-star cast for his as-yet-untitled Austin music film starring Christian Bale, Ryan Gosling, Michael Fassbender and Natalie Portman.
With the Texas Filmmakers' Production Fund application deadline swiftly approaching on June 1, the Austin Film Society is hitting the road in April and May with a series of workshops across the state. The idea behind these workshops is to spread the word about grant money AFS makes available to Texas filmmakers, while demystifying the application process.
The tour started in McAllen, followed by Corpus Christi, with future tour stops planned for Waco and Denton (4/19). Interim Artist Services Manager Austin Culp will be holding workshops in Austin, San Antonio, Dallas and Houston in the coming weeks.
The McAllen event on March 31 was co-sponsored by CineSol Film Festival and the McAllen/Mission Chamber of Commerce, with many thanks to Henry Serrato from CineSol for putting everything together. I met with a number of filmmakers interested in learning more about TFPF funding, and walked them through the application process step-by-step.
Henry took me for a tour of the historic Cine El Rey Theater in McAllen, home of the monthly Texas Independent Film Network screenings, which wrapped up the spring season with Mike Akel's An Ordinary Family. This being my first visit to the Rio Grande Valley, I was struck by the large population and sheer size of the area. It's very much a bustling hive of activity, reaching some 70 miles from Brownsville, through Harlingen, Edinburg, McAllen and Mission. Filmmakers from each of these cities attended the workshop.